I'm cheating a little bit, I'm writing this when we're 8.5 years old on a cold dark night in January 2023. Turning 8 back in July 2022 was a big deal for With Many Roots and for me personally but at the time things were too hectic to put down in words and reflect on it all.
With the gift of hindsight, I'd like to share a few key updates.
Growing bigger
Since the last time I published an annual update (July 2020 when WMR turned 6), it's no longer "I" any more, it's "we".
Since October 2020 With Many Roots has expanded to include Allison Whitaker and Daphne Pleace (spoiler: in January 2023 Phillipa join us, more on Phillipa in a future post). Over the last 2 years both of their roles have shifted, waxed and waned as we've experimented with different things. These days Allison heads up all things in the US as well as looking after our community of facilitators, called The Understory. Daphne is our "Organisational Doula." It's something we'll explore more in a further post together but briefly she holds the wellbeing of the individuals in WMR as well as the organisation as a whole, she has taken us on nature days, ran wellbeing exercises and held one-to-ones.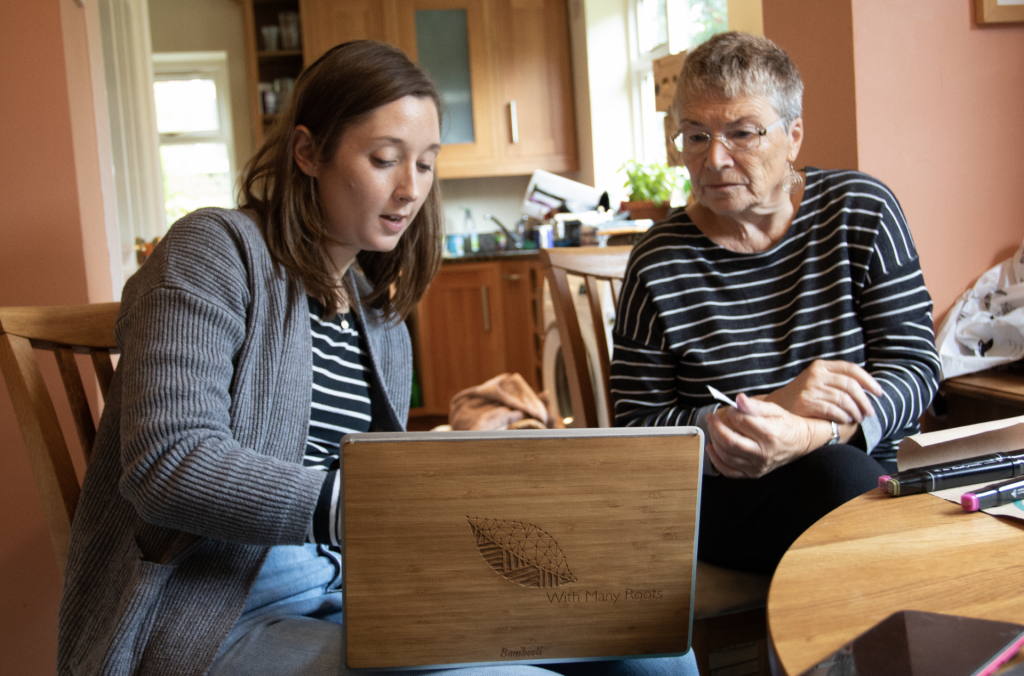 Our facilitator community is growing. We now have 12 people who've completed our climate science series, Difficult Conversations, who we pull into our larger projects. This is where we want to focus our Diversity, Equity and Inclusion (DEI) efforts. We're making some great steps but there's plenty to build on here.
As of July 2022 Allison is now Stateside in her home state of North Carolina. She is already making waves in climate education and is in high demand. This marks an exciting step for Allison, all the work we achieved together in North Yorkshire has played an important role in relationship building and opportunities on her side of the pond. We miss her physical presence in North Yorkshire though!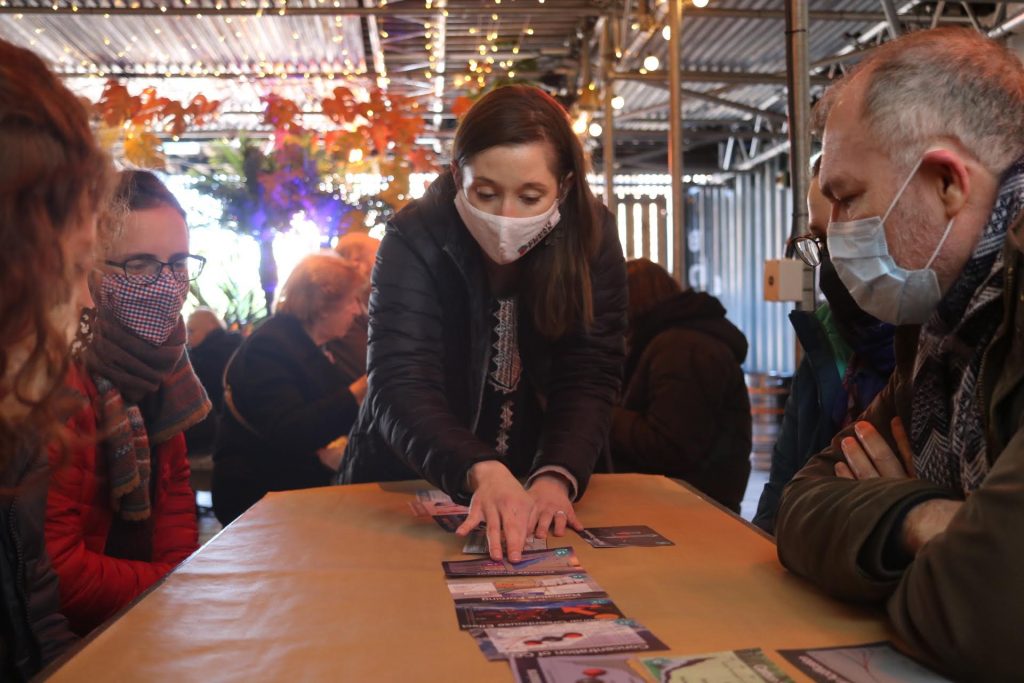 Getting organised: bringing together an advisory board
As I stepped up my business efforts I knew I needed accountability and the support of people who could help me flex and stretch.
Fay Man, one of my oldest friends, is supporting us with financial planning and Nick Williams is helping with his B Corp knowledge, ops and planning, whilst Fin O'Donoghue brings in his experience as founder of Campsited. I am so grateful that I can call on these people on a quarterly basis and talk about WMR. Check out our about page.
I also have a short list of about 12 cheerleaders I send monthly updates to from my perspective at WMR HQ. This exercise which I have managed to stick with for 16 months now is proving a helpful anchor point and a rich way to look back.
I also pulled together
Our first financial budget based on scenario planning
First measurable Key Performance Indicators (KPIs)
Our first phase of policies written and shared internally
Quarterly profit and loss reports
Now a year and a bit on I can tell you that there have been quarterly reports that I've missed. Our KPIs were not properly evaluated and renewed this year (and I'm trying to be kind to myself about that). But the process of reviewing our activity every 3 months is one I really enjoyed, although I've found it difficult to juggle the work of the business and the work of building the organisation.
Shifting focus, backing myself
Back in 2020 I was committed to downshifting, the degrowth idea of working for money less and using that extra time to focus on my activism. Two years on those experimental ideas have grown into my full time gig. In 2021 I dropped three clients and in 2022 I said goodbye to my comms role in If Not Us Then Who? – a role I'd had for 8 years. I took Fin's advice – and decided to 'back myself'. It was a huge step for me to take, off the metaphorical cliff. With my 35th birthday looming, this was a step change I finally felt ready to take. I finished 2 days before my birthday last April. And since then? It's been non-stop. In good ways, in unexpected ways and in unhealthy ways. Messy as you might expect with someone trying to figure it all out.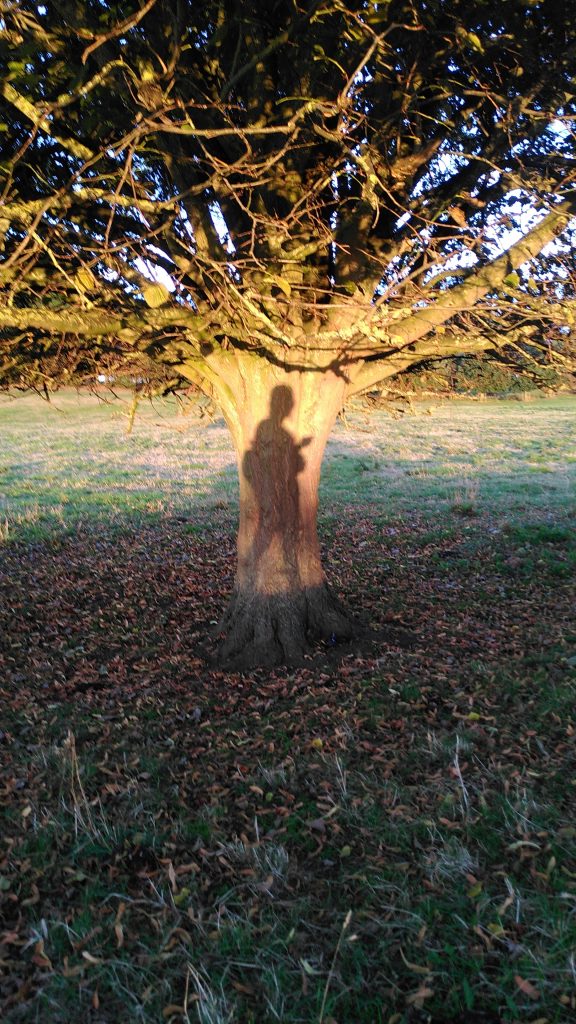 We also got clear on our focus, coming up with the strapline, "Education for the Anthropocene" taking the magic of small intimate and rich interactive learning experiences that engage our heads and our hearts and applying them to the big systems we need to understand if we are to unpick them.
I am so proud of our mission and vision. You can take a look here. Or if you prefer it in 'book math' format: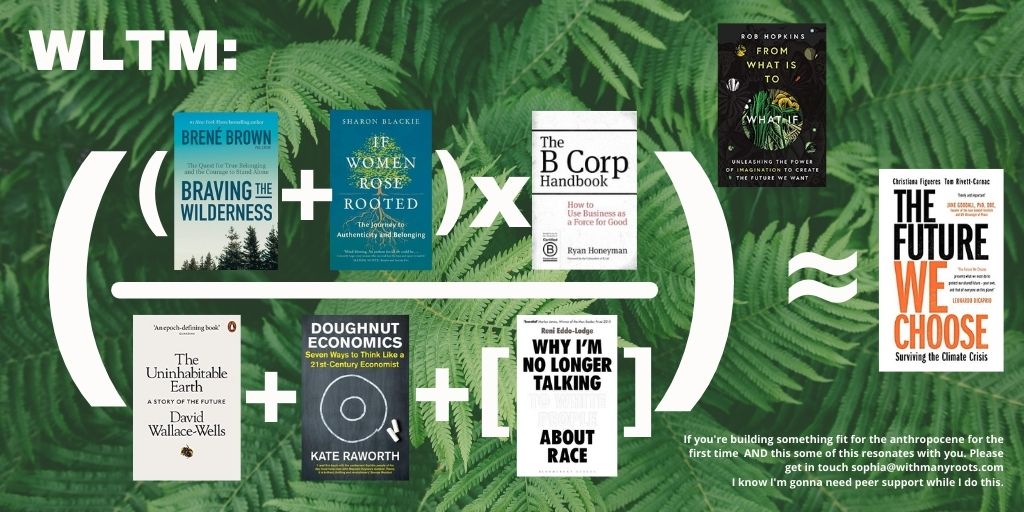 Held our own with the big boys
We have delivered workshops for some of the biggest household names in tech, soft drinks, social media and more. We've been in hard to abate and controversial sectors: transport, finance, energy etc. (We got clear on who we would work with here.) If you'd told me that 2 years ago I would never have believed you. It's been a tension to straddle these seemingly two different worlds; of business and activism. But a client from one of the world's biggest companies offered me these words:
"I really like how you balance your activism with your corporate education work. It is valuable for us to hear about climate change & indigenous rights from all different types of stakeholders, so don't be shy bringing your full self to corporate workshops!"
We've also delivered workshops to grassroots local journalism, engineers, youth activists, teachers and scientists. As Covid rules disappeared we shifted gears and begin to deliver workshops face to face, finally being able to travel to different cities: Glasgow, Leeds, Hull, Manchester, Southend, Coventry, Bristol, Bath, Birmingham and plenty of workshops in London.
We finally got our act together and collated some client logos. We've got some case studies we must get out there and share properly soon.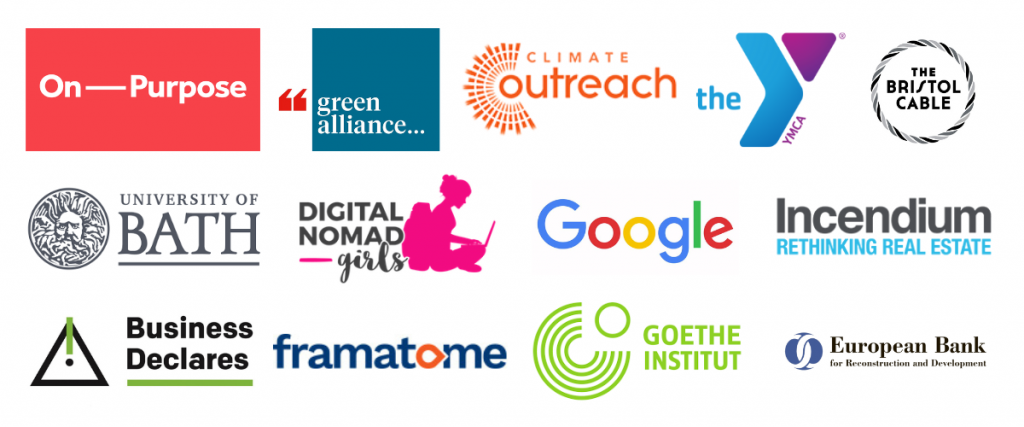 Allison and I went to the biggest climate change event in town, COP26 in Glasgow and I even had the opportunity to speak in the formal Blue Zone area.
Emergence and experimentation
Some highlights of our 7th year we could not have foreseen; namely being approached by Climate Outreach (an organisation I have admired for 10+ years) and being invited to work with them on workshop design. Then that leading to designing and delivering a two day retreat for the CEOs of the large longstanding environmental NGOs in the UK. It's a project that I want to share in more detail but for now suffice to say it was a career highlight. Nine months later a participant got back in touch with these kind words:
"I was profoundly struck by your extraordinary ability to (from my perspective on the outside looking in, it might feel different to you of course?) bring your true self and authenticity to the facilitation of the Bore Place retreat in March in a way that I think few would be confident to do so."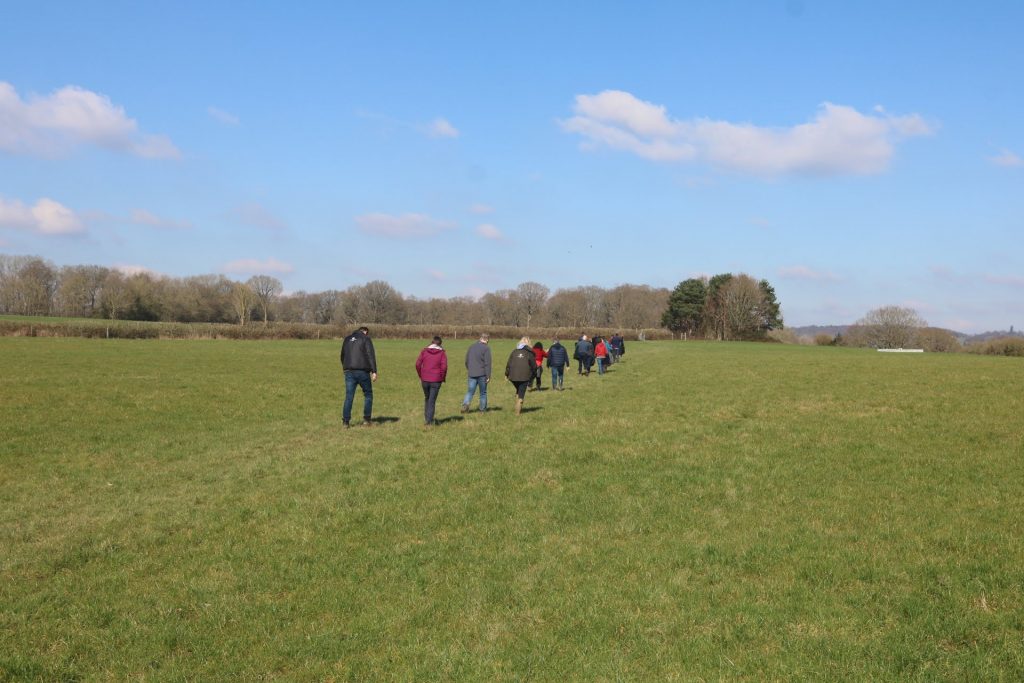 Another was the Motherhood in a Climate Crisis project; a seed of an idea I had in early 2021. It grew, bloomed and transformed into something I have never imagined. Find out more about it here. I used income from workshops to support bringing this project to fruition. I am so proud of it, and I learnt a lot too. As the founder of an idea, I was figuring out what it means to let that idea take shape in the mind's of other people: holding on to the concept enough but not too tightly. And it got picked up by the BBC!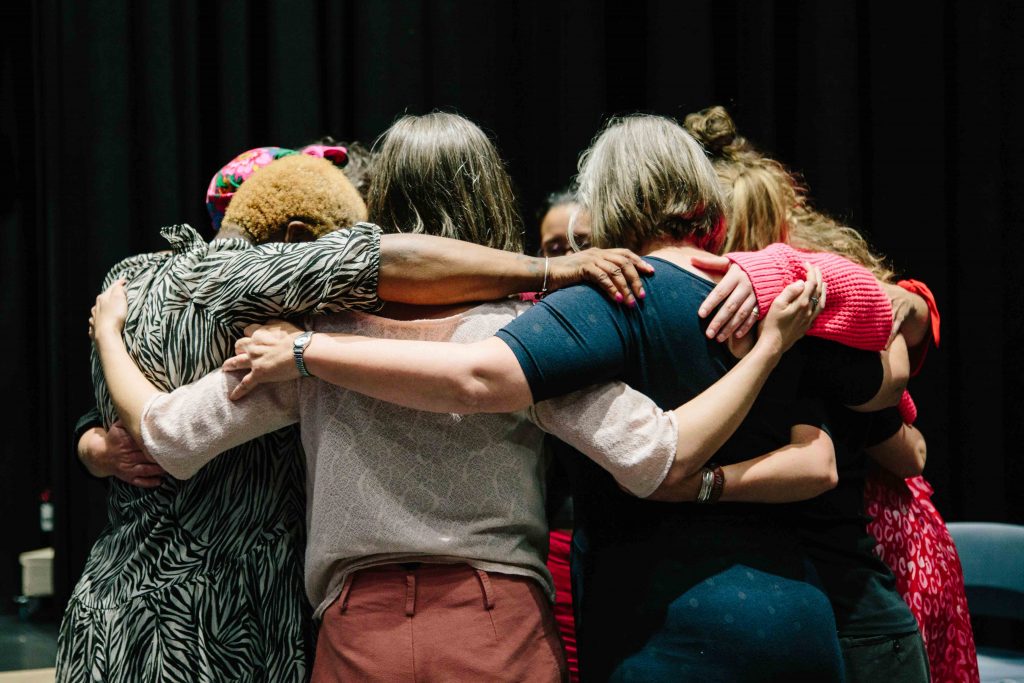 We've also developed new workshops exploring economics, and just recently financial systems. Dedicated focus time is needed to bring these out into the world, something I hope we'll do more of in 2023. We've trained up on Biodiversity Collage and Allison delivers an excellent climate policy workshop called En-roads.
And lastly, our Cli-Fi for Beginners group continued to thrive. We started at the beginning of the lockdown and by the end of 2020 we had launched the Cli-Fi Imaginarium to host the stories. Or little drops of hope as I like to call them. Please do explore.
Redistribution
I'm really proud to say we've maintained our Giving What You Can Pledge of donating 10% of our pre-tax annual income for the 6th year in a row. And as we turned 8 we made our biggest donation to charity yet. A whopping £2600! (It was £1400 in 2021)
Like every year, we donate 50% with our head and 50% with out hearts. This year our recipients were: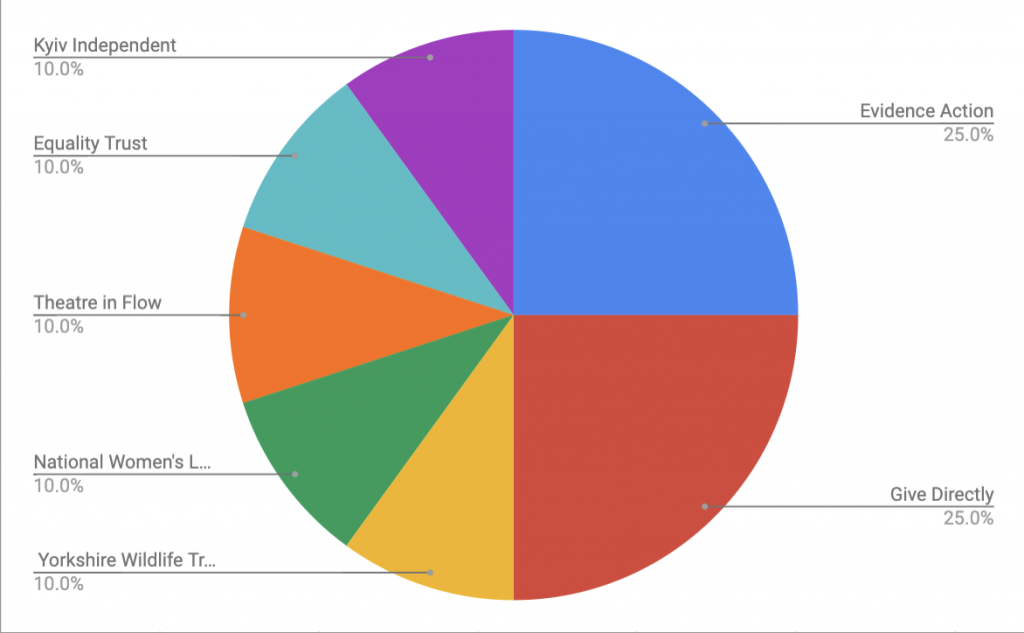 With our heads (i.e. 3rd party assessed for their effectiveness) :
Evidence Action and their deworming initiative
Give Directly: giving money directly to the world's poorest, who then have autonomy as to where they spend their money. I am a huge fan of this organisation, it's the 3rd year we've donated
With my heart, based on ideas or causes that moved us in the last 12 months
I cannot tell you how much joy I get listing this out. I have said this before, but it is the best kind of shopping.
And so what have we learned?
That we have a viable business and have made our highest amount of income to date
That it is both daunting and exciting to work fully for yourself and be your own boss, whilst also managing others and grow an organisation
It is only through community and strong relationships that we have made it this far. I would never have believed this on my own
I am super clear on our purpose
My approach to work needs to shift, otherwise it will break me. The cult of productivity is so ingrained in my head, it's going to take some unlearning. So towards that shift we have brought in help, in the form of social media support from Tiff and ops and admin support from Phillipa. More on this in a future post
We want to do business differently and that is what excites us about doing this stuff. From redistribution to being intentional about facilitators we work with. But our latest shift will be moving towards being a cyclical business which you'll be able to learn more about soon
I still yet, don't make enough time for writing, despite loving it when I finally put pen to paper. And knowing that sharing our experiences is an important part of our work.
If you've read this far, you've probably been supporting WMR for some time so here's the perfect moment for me to say thank you. Look out for future posts where we breakdown some of the other business growing decisions in more detail.
"Businesses need a vision for the world they are pushing for, and a coherent plan for how they help bring that about. They need a systemic understanding of the full range of both their direct and indirect impacts. In the twenty first century it is totally unhelpful to have organisations that exist primarily in order to make profit."

Mike Berners-Lee
---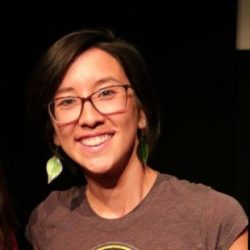 Sophia Cheng
With a decade of communications experience across the for profit and nonprofit sectors, agency and in-house, Sophia has made a habit of making 'the hard stuff' more accessible. Since 2018, she has reorientated her life around the climate crisis. She has forged her decade of communications experience into offering workshops, mentoring, blogging, and more, on the biggest issues of our time.
View all posts