4 July 2020
Six years ago today I incorporated my business. For months it sat there quietly as a few printed sheets of paper. It was, more than anything, a framework for my then very new mode of operating: out of the 9-5 office employee contract and into the freelancing, contracting world. I chose to go the limited business route rather than self-employed because it gave me the possibility of doing 'more', more clients, different projects, developing my own ideas. Back in 2014 I had absolutely no idea what that 'more' would look like only that the open-ended-ness piqued my interest.
Six years on I am now clear on what that 'more' is. It's being more useful in the name of the climate and inequality crisis and using the infrastructure of my limited company to facilitate that. It's about using the earnings from my client work to fund unpaid workshops and volunteering activities. It's about earning my own flexibility and ability to experiment and take some risks. It's providing the scaffolding to fulfil my purpose.
31 July 2020
I've reflected on how useful it is to be an outsider, little old me with my little old business. Wouldn't it be more effective inside of an organisation, being part of something bigger?
But it's helped me carve out and play with the world of the possible in a present day world that is hurting people and planet. Do I need do work 40 hour weeks to be profitable? Do I need to be in one place to be effective? Is my worth tied to my productivity? Can I bring in wonderful people to support me? Do I need an office?
These last 12-18 months I have probably fretted the most about money. Entrenched in scarcity mindset that said I never had enough as we transitioned to a slower lifestyle with more regular outgoings. And yet, it has been my most profitable year to date. When I did the math a few months ago and realised this – it dawned on me that for all that I was doing differently I was still living out many of the same old storylines I thought I had escaped from.
This happened in the middle of lockdown and forced (another) existential rethink. Emerging now with my first solid offering from With Many Roots – I now know what I do and why I do it:
The climate crisis together with rising inequality is the biggest issue of our time- through workshops, mentoring and words, With Many Roots will help you find your place in the movement.
I am really proud of what I am trying to build while continuing to play a role amplifying indigenous storytelling, playing a small supporting role in my XR group from my hometown and being part of a local Green New Deal UK hub.
I have a growing gut feeling that I am mid-transition again. I am not sure what things will look like when With Many Roots turns 7,8 or 9 but I'm laying the foundations once again for that growth to take place.
Achievements
Giving What I Can Update
For the last 3 years, I have donated 10% of my profit to charity, half of it using my head aka the Effective Altruism principles and 50% with my heart. Last year I made 4 donations of equal amount to Against Malaria Foundation, 350.org, Climate Outreach and Rethink Mental Illness.
But here's the thing, I didn't make much profit last year.
This year, 10% profit equated to £2000! I gawked at the total figure and started thinking: is it financially responsible to give that much away? Should I put it in my pension instead? What about if I get fired by all my clients tomorrow and run out of money? (read: money anxiety creeping in again)
After the scarcity thoughts had run amok around my head another critical voice emerged: So now you've finally got some profit you're gonna balk straight away at sticking to your target. Call yourself an ethical influencer? (read: imposter thoughts)
Eventually I was able to recall that I set this business up to practice my values. It's like a tax I am choosing to pay. This year I have been successful, it's my duty to redistribute some of that success.
It really is the best kind of shopping!
Head donations/Effective Altruism
This year I have decided to:
Give Directly: I've donated to this organisation a few times. Spurred on again this year by reading Utopia For Realists and the several case studies that demonstrate "the real experts on what poor people need are the poor themselves." They share their research on their site citing "positive impacts of cash transfers averaging ~$500 across a wide range of outcomes including assets, earnings, food security, psychological well-being, and domestic violence, an average four months after transfers ended."
The END fund – deworming initiative: This ticked two boxes for me this year. Analysis has shown that this cost-effective treatment for worms boosts access to education in poorer countries, more so than book donations etc. Also girl's education in particular has a huge knock-on impact on climate change and carbon emissions: "women with more years of education have fewer, healthier children and actively manage their reproductive health."
Heart donations
And with my heart donations, I reflected on what has moved me most in the last 12 months: racism in the UK, global inequality, climate activism and individual creativity. This year I donated to:
Runnymede Trust: "UK's leading independent race equality think tank." I'm still new to my anti-racism journey but one thing that is starting to drill in is the need to focus on policy change. Research by the trust fed into the Stephen Lawrence report exposing systemic racism in British institutions. Their 4 page briefing looking at the situation 20 years on makes for stark reading.
War On Want: I have followed this organisation from afar for nearly a decade and heard Asad Rehman speak at the Ethical Consumer conference last year. They are tackling global inequality and highlighting the interconnectedness with climate justice. This work feels more valuable than ever.
Climate Emergency Fund: Last year I threw myself into climate activism which has changed me irrevocably. After learning about the principles of non-violent but disruptive action I understand the value of these kinds of actions. Through my activism I have stepped into being an ethical citizen, not just an ethical consumer. Supporting activists and actions seems valuable especially as Covid-19 has forced a shift in tactics.
Arvon's #OpenToAll campaign "providing financial assistance to writers on a low income." I attended an Arvon writing course back in 2018 and it's had an immeasurable impact on me. A young 19 year old on my 2018 course inspired me to write poetry again, a 68 year old help me find my voice. This year I have honed in on the need for storytelling and tapping into my own creativity by setting up writing groups and having a go at fiction. So it felt appropriate to be able to pass this opportunity on to someone else.
Paying for my media
Since 2017 I have made this a part of my business ethic:
In total that equates to £330+ spent on media this financial year.
There's plenty to keep working on and improve but overall it's been a rich 12 months in many ways. Well. Done. Me.
So until the Green New Deal or just equivalent is introduced where we'll all be needed by central or regional institutions to de-carbonise and transform our society rapidly and fairly – With Many Roots will continue to bed down deeper in supporting people to get us there.
---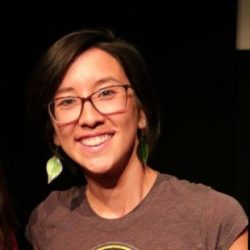 Sophia Cheng
With a decade of communications experience across the for profit and nonprofit sectors, agency and in-house, Sophia has made a habit of making 'the hard stuff' more accessible. Since 2018, she has reorientated her life around the climate crisis. She has forged her decade of communications experience into offering workshops, mentoring, blogging, and more, on the biggest issues of our time.
View all posts