Understanding the complexity of climate change is half the issue; it's just as crucial to get to grips with the solutions.
Frustrated by climate in action from world leaders?
Would your team benefit from understanding climate policy in an engaging way?
Want to test if your netZero strategy is ambitious enough?
Looking to take a systems thinking approach to climate solutions?
Help your team envision what might the world look like if we put in place policy that limits warming to below 2 degrees?
Work as a team to pick climate solutions that will achieve the Paris Agreement targets of 1.5°C-2°C. Collectively, together you will learn which policies are most effective, what system dynamics are at play, and just how much of a challenge reaching 1.5°C will be.
Length
2 hours
INTERACTION
Online
SIZE
4-10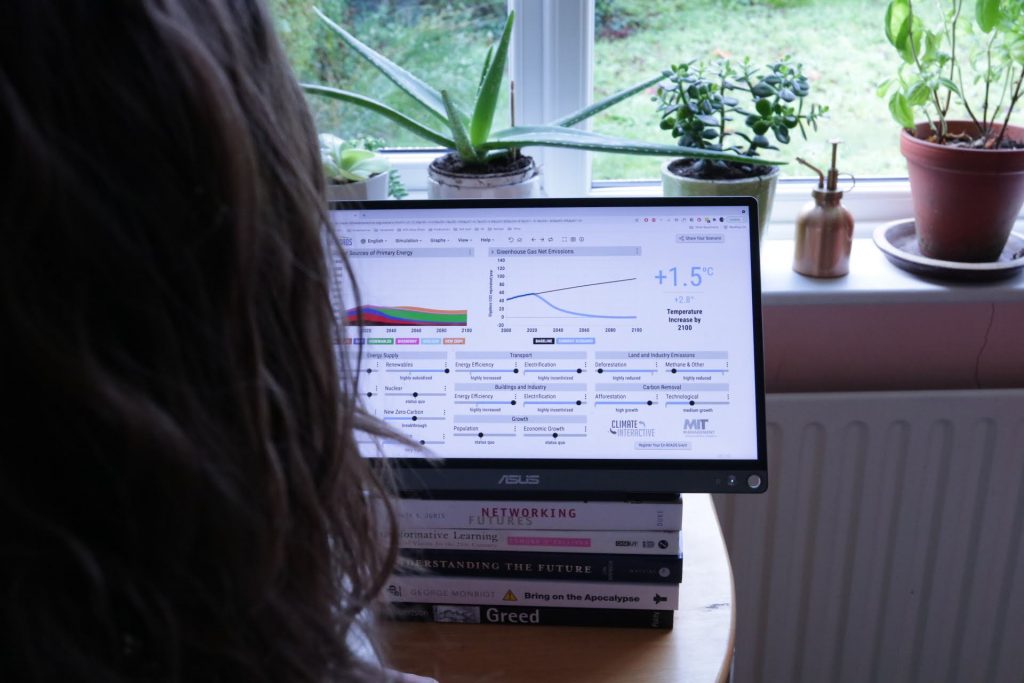 NEW WORKSHOP
Getting to grips with Climate Policy Solutions: En-Roads
Now that we know how we got into the climate crisis, let's explore what can be done to address it. Does your company have a sustainability strategy already? Let's map it and see how it stacks up and where you might increase your ambitions. Looking to launch a sustainability strategy but need buy in? Let's map the strategy in a small group to show it's impacts. Would you like to get the team to brainstorm in an informed way? Let's test some hypothesis and reveal the most accessible climate solutions in your organization. How does it work? Small groups collaborate as if they are global policy-makers pulling levers to bring about systemic change. Participants test hypotheses and discover the interconnectivity of climate solutions while reflecting on what it's going to take to achieve the Paris Agreement. The workshop can be tailored to your specific group or team.
It's a very versatile tool. Different groups are using it in different ways. Examples include:
A green team can mapping their sustainability strategy and finding ways to have greater impact
Training all staff on climate policy solutions
Community managers offering novel experiences for their paying members
Founder running team workshop as they pivot to a new sustainability strategy
Lecturer bringing in this workshop to complement their syllabus (policy and role playing options available) guided assignment materials available
⚠️ We ask that your team have participated in a climate science workshop, called the Climate Fresk before joining this workshop. When all participants have a firm understanding of the science behind climate change, discussions are more productive and enriching.
What others have said
It's a beneficial exercise for companies to understand where they are now and how their sustainability policies will look in the near future. The workshop is interactive, visual, and provides new perspectives on how our world functions today.
Andreia
Sweden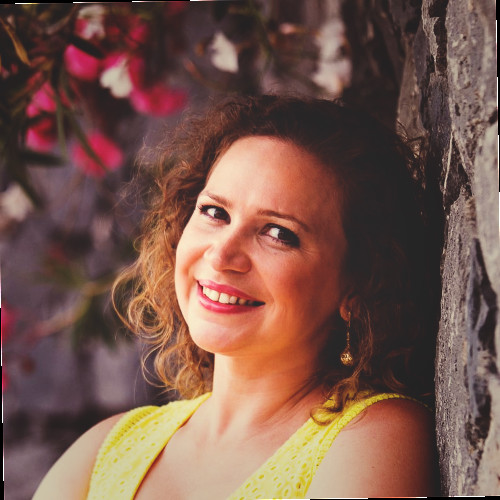 Great balance between giving us space to suggest/try things and giving us some guidance. So useful to be immediately able to see the impact of different things – I learned so much, and I know what I want to explore and advocate for next.
LiLi
UK
The tool is phenomenal and offered a great deal of insight with a great attention to detail. Allison did an excellent job leading the group with the right questions, prompts, and the addition of her own knowledge.
Nick
Operations and Sustainability expert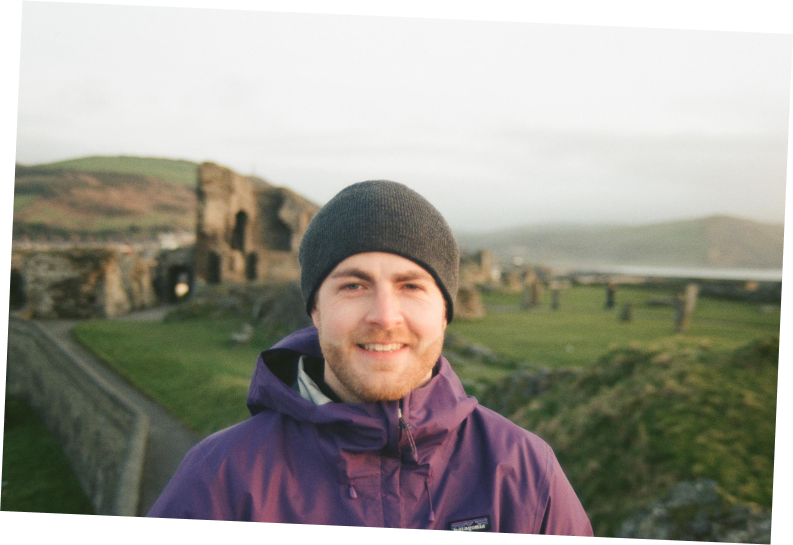 Who is the En-ROADS workshop for?
Anyone curious to learn more about climate policy solutions
Anyone wanting to visualize the system dynamics of policy solutions
Those already well-versed in climate change looking to test their knowledge and assumptions about climate solutions
At the end of the workshop you will have
A clearer understanding of the complexity and systemic nature of climate policy
An understanding of what it will take to meet the Paris Agreement targets
A deeper look at climate policy to consider fairness and additional benefits
A visual overview of the system dynamics at play
Tested your own knowledge and assumptions
A URL to your team's dashboard you can come back to for reference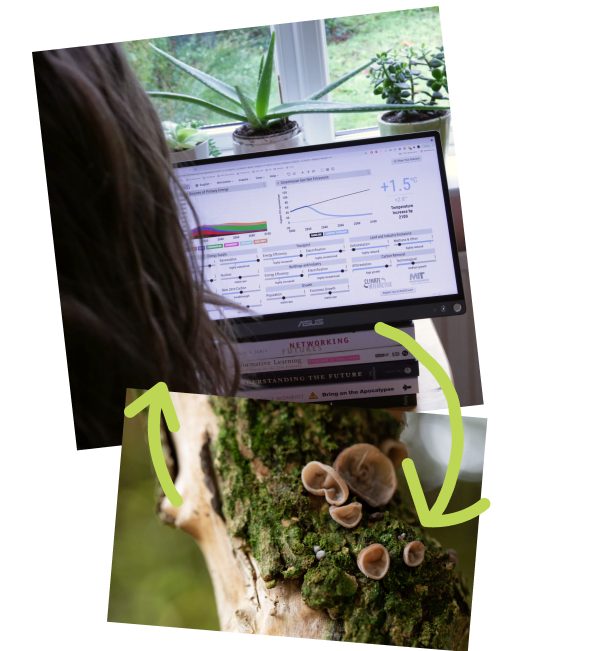 FAQs for En-ROADS workshop
What data does the workshop use?
En-ROADS was built using the best available science and data, with sources such as the International Energy Agency (IEA), the United States Energy Information Administration (EIA), and the Intergovernmental Panel on Climate Change (IPCC). The En-ROADS simulator is driven by its own equations, not external datasets, and is calibrated against history and projections. Default values and bounds on economic, energy, and climate related dynamics have been determined from an extensive review of literature; all parameters and equations are available in the En-ROADS Reference Guide. For those interested, many parameters or assumptions that we make can be changed in the "Assumptions" view under the "Simulation" menu.
Why is the group size quite small?
We keep the group size quite small for our En-ROADS workshops because it makes collaboration and interactivity easier for participants. Engagement is required throughout the workshop and to balance everyone's needs, 6 is the optimum size, or occasionally 8. If you'd like more of your team to play, we can speak further about a larger session.
Face-to-face group sizes can be up to 20.
Can the workshop be changed?
Can the workshop be shortened?
Yes, it really depends on what your ultimate goal is. We find that understanding what it will take to reach the Paris Agreement of a 1.5°C temperature rise takes about 2 hours. The role-playing version of the game takes 3 hours to complete. If you want to understand the dynamics of one particular area, we could explore a shortened version of the workshop.
Who will be running your workshop?
Your workshop will be delivered by Allison Whitaker, a trained En-ROADS Climate Ambassador.
Do you run workshops face to face?
Yes. This is really the direction we were heading in before Covid-19. Since lockdown, all workshops have been delivered online and will continue to be so for the near future. Our facilitators have years of online experience working with groups across time zones.
Can I become an En-ROADS facilitator?
Yes absolutely. But first you need to participate in an En-ROADS workshop. You can enroll in a self-paced training course over on the Climate Interactive website.
Why is 10% of your profit donated to charity?
Since 2017, With Many Roots has donated 10% of its profit to charity, using effective altruism principles. We believe it's our responsibility to distribute our success. Did you know the average salary in the UK in 2019 (£30,000/year in 1 household) equates to being in the top 2.1% richest population in the world? Find out where last year's 10% went. We even made it into the national newspaper!
Why am I paying for staff physio, wellbeing, and learning?
We're demanding our team to be at their desk and emotionally present during each workshop, to hold a safe space while others engage (often for the first time) with just how complex and connected the climate crisis is. This work is intellectually, posturally and emotionally demanding. We think it's fair to look after the needs of our team, so that means paying for processes to continue their learning; physiotherapy and similar to maintain a healthy body; and counselling or mentoring to build resilience and maintain emotional health. We believe all this will contribute to higher quality workshops for you. Often in other companies' prices these are embedded costs: With Many Roots prefers to be accountable and to let you know where your money is going.
Pricing
With Many Roots adopts a sliding scale fee and 10% of your fee goes to Climate Interactive.
Online workshops are priced at:
Reduced / Grassroots
A few reduced and free workshops are run for grassroots or student groups
< £800
Generous / Corporate
≥ £2500
Note
With Many Roots is part of the Giving What You Can Pledge; on top of the 10% donation on this course, 10% of annual profit is donated to charity as well. With Many Roots is a living wage employer and all team members have access to physical and mental health wellbeing support and an annual training budget to further their learning.
Next steps
Book in a call with us to discuss your needs and aims for yourself or your team.
Together we will identify if we're a good fit and map out the right program for your organisation.
Curious Individual?
If you're looking for engaging workshops just for you, we host 'pay what it's worth' community workshops each month.