Closure after court technical glitch
7 January 2021
I received a good outcome but for strange reasons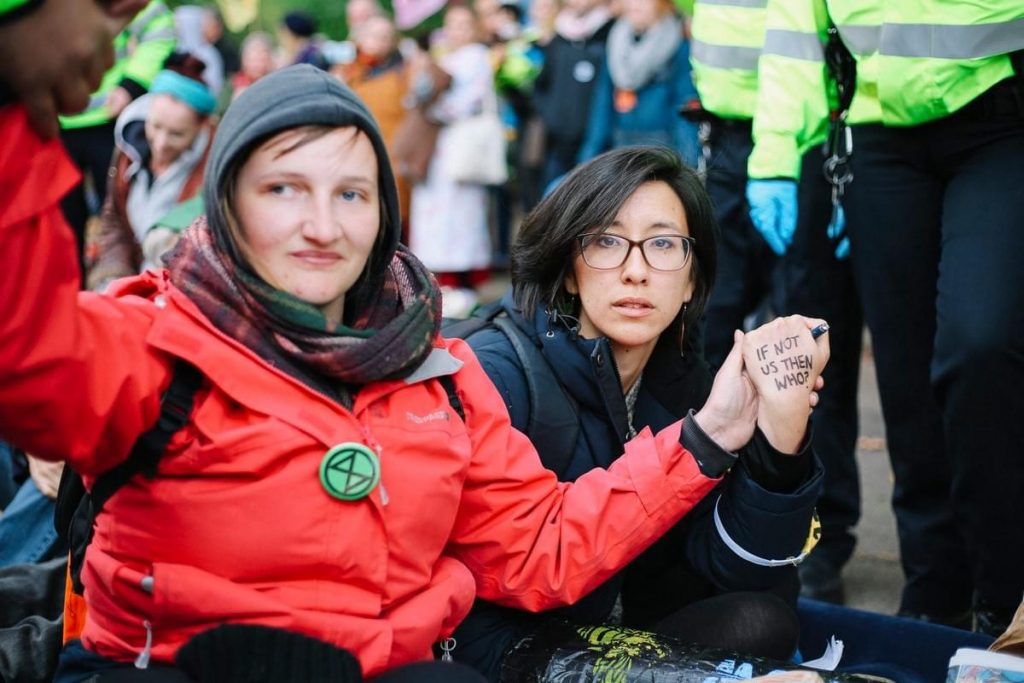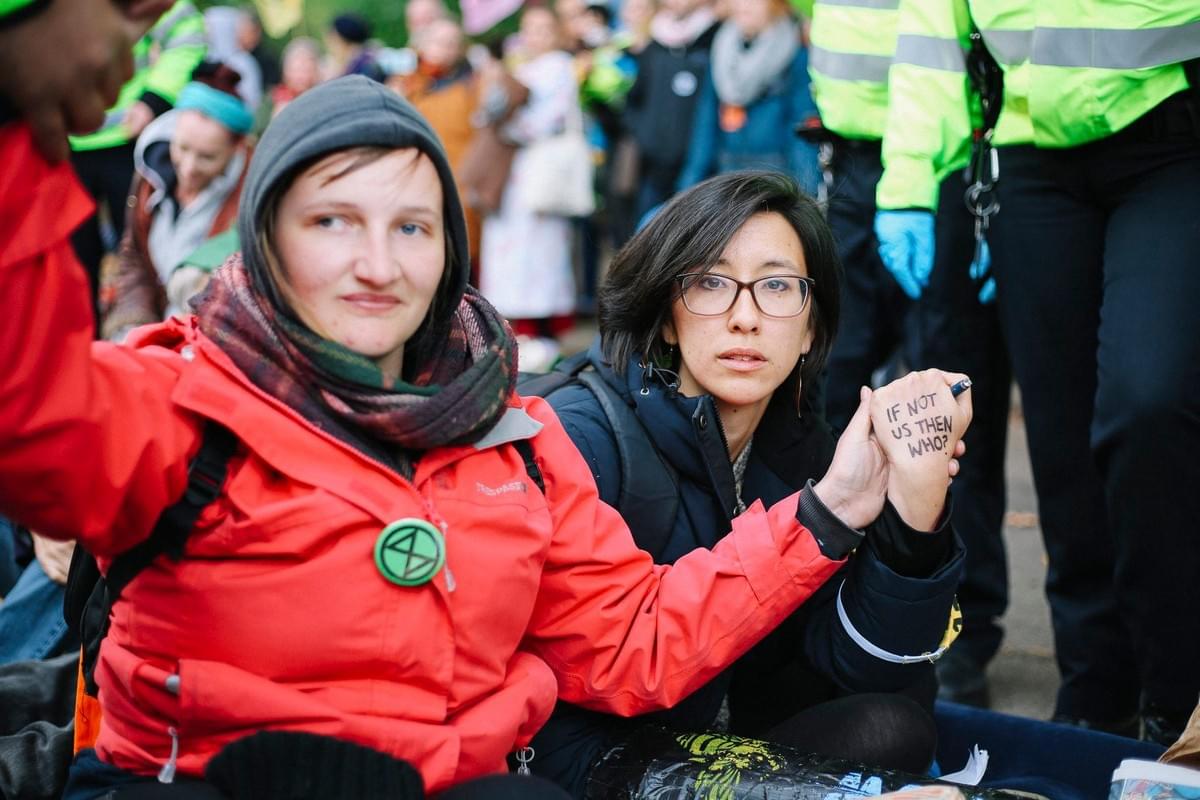 A year and 3 months after my arrest I finally had my trial this week, charged with Obstruction of the Highway.
I received a good outcome but for strange reasons – and in the 48 hours following I've been reeling over it all and concluded I needed some closure. That is the purpose of this post. This whole process has been a roller-coaster and before the memory fades I want to get it down.
Jump to: Trial day | Aftermath | Defence Statement
Leading up to the trial
While I am not in denial of climate change I was certainly in denial that the trial date was heading ever nearer. In my defence, I received the body cam footage of my arresting officer – the main evidence for the prosecution – just two days before I was to submit my skeleton argument for my defence and my defence case statement. It is a strange video to watch back and I can see my nerves pervading all my facial expressions.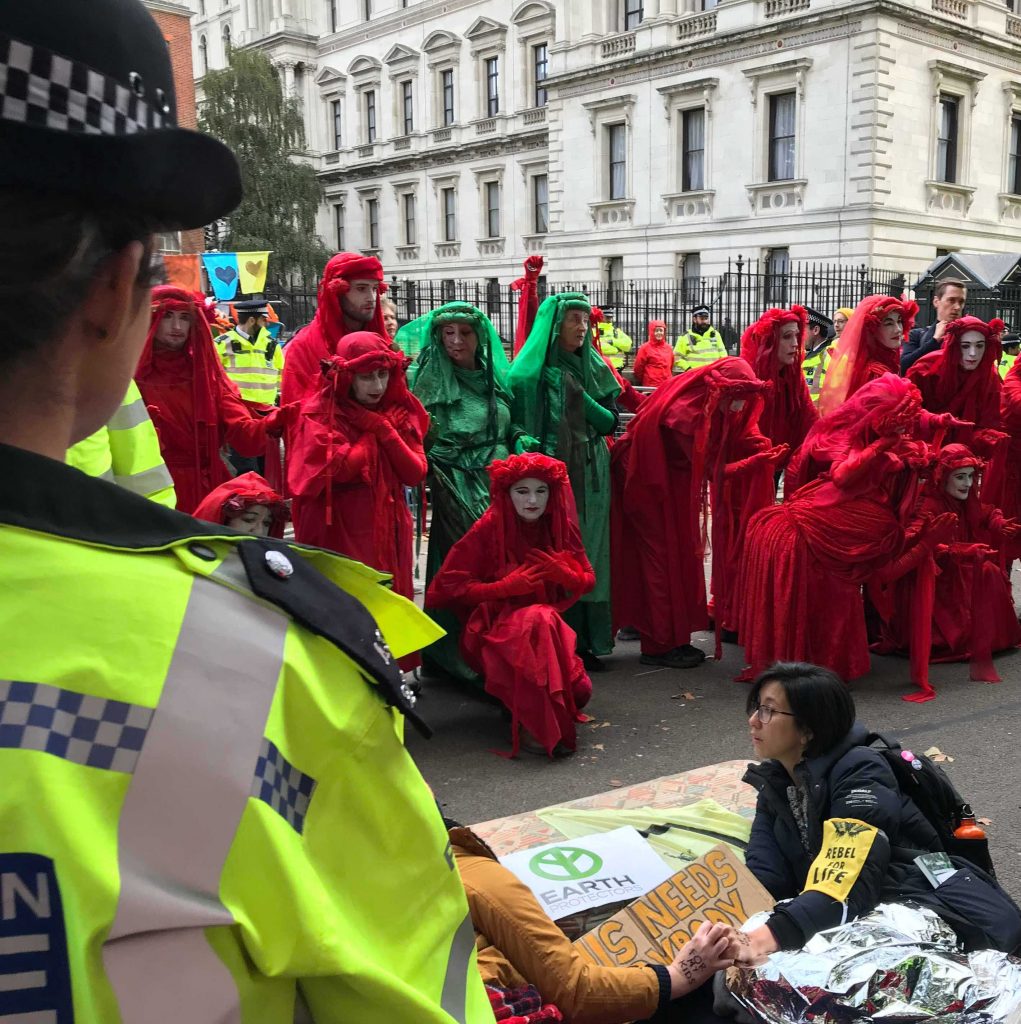 There is no way I would have been able to prepare the legal documents required without professional support. The legal prose was impenetrable and the skeleton argument relied on referencing case law dating back to 1899! I was reminded again of the consequences in legal aid cuts. With the deadline 24 hours away it surfaced that the status of the road we were arrested on was in question. Horse Guards' Road is a private road – so, does it fall under the same status as a highway? After hours of research my solicitor appealed to XR for funds to 'get counsel' which means a second opinion from an expert in this kind of law. XR approved and a barrister from Garden Court Chambers was tasked with looking into it. Our documents were submitted with a caveat that a follow-up document was pending.
So with our deadlines for the 7 December met, it was now down to me to prepare my words for self-representing in court. And boy did I avoid it. I attempted festive crafting, escaped in blockbuster superhero films, read fiction, threw myself into work – anything to avoid facing this task. But it was affecting my mood, I was being grumpy, uptight, strung out: classic displacement.
Christmas came and went and by this point the two closest people in my life were strong-arming me to get on with it, using bribes and all sorts to make me start. Eventually I drafted my wrapping up statement: the 5 minutes the defence has at the end to sum up the case. When I finally got into it, it flowed out of me. The climate and ecological crisis is never far from my consciousness. Feeling smug I had got something down, I ignored trying to commit it to memory for days again.
It is hard to motivate yourself to act, when you know the odds are stacked against you. Chances were that I'd be found guilty and I was ready to face the consequences. Not unlike the days of nihilism I experience about the climate crisis too.
I also realised something else – I was holding out for a hero (the very thing I argue in a recent blog post not to do!). I was holding out that the barrister-in-shining-armour would come through and say that Horse Guards' Road is not under the jurisdiction of the public highways act, therefore this case should be thrown out!
Alas, with the festive break and possibly due to ever tightening tiers – my hopeful heroes were silent.
I started memorising my wrap up speech, as I understood I would not be allowed to use notes. I researched how to refer to the magistrates discovering that I needed to call them Your Worships! I had decided I would not cross-examine my arresting officer and focus on the moral aspect of why I felt I was not guilty: that my actions – exercising my right to protest under the European Convention on Human Rights – were legal, reasonable, strategically located, proportionate and necessary.
The first working day of 2021 rolled around and suddenly everything kicked into action. One day before my trial. The barrister had responded, his research wasn't conclusive but the status of the road was arguable, an updated skeleton argument was submitted. I drove down to Essex but still had not spoken to my solicitor.
At 4pm it was all change again. I had representation – paid for by XR! There was a scramble to find someone so late in the day and in the end my solicitor said she would step in. XR were funding my representation to fight the status of the road and cast doubt on the prosecution. The burden of proof falls on the prosecution: they have to prove I'm guilty, and they have to prove that the road which is private and part of St James' Park falls under the Highways Act of 1980. If there is doubt, I should be given the benefit of the doubt. This would then impact the future trials of the many arrested on that road on that day. Suddenly the stakes were all different. Now, I would not be reading out any statement but be a witness in my defence, stood in the box, asked questions and cross-examined.
At 7.30pm I was supplied with a whole selection of new questions to prepare for, trying to adapt what I'd prepared and get clear on the new answers. Oh and we went into a national lockdown again. I was ready to go to London in the morning but it was possible the case might be adjourned because of my co-defendants, or if the prosecution wanted to delay things in light of the new skeleton argument, or because of Covid. That would be the worst case scenario for me. For all my lack of preparedness and nerves, I wanted it to be over.
Trial day – 5 January 2021
My mum and I made our way to London on what would be a busy commuter train on a normal day at 8.14am, instead there were 4 people on our carriage. I have never seen London so quiet as we walked to the courts at Bank. There we met XR volunteer notetaker Gordon and waited patiently, my nerves rising. My co-defendants were not present, so there was a delay as they set up the video live link with them. Eventually 40 minutes late we went into the court room. There was one clerk, an usher, the prosecutor from the Crown Prosecution Service (CPS), the defence, a police reporter, me, my mum and Gordon. We all rose when the three magistrates entered.
First they dealt with the two other defendants. I learnt that the video Livelink while used for prisoners in courts had only been more widely used because of Covid. There were quiet whispers between magistrates all masked; and between lawyers, delayed audio from the remote defendants. Meanwhile the room's heating was rattling loudly – it would escalate in speed and volume, disappear for a while, then come back again. After quite some time, both remote defendants' applications for the cases to be adjourned (postponed) were given, in part because they had not received their bodycam footage from the CPS. Then it was my turn.
The prosecution had not received my original defence case statement and skeleton argument sent on December 7th, although the magistrates had it in their bundle. There was a delay for that to be rectified. The magistrates did not have a copy of the updated skeleton argument with the querying of the road status, meaning a further delay while everyone was printed a copy. The prosecution began putting the case forward ahead of calling in my arresting officer as the main witness. I was warned that a technical issue would limit my solicitor's ability to cross-examine the officer: streaming video across the Livelink was glitchy and had no audio. I asked to continue, no postponing, even if that diminished my chances of a more positive outcome. The next step was to bring in the officer, and whilst her blank black square appeared on the TV screen, we could not hear or see her.
Everyone who has moved to remote working in 2020 will have had the same experience at some point. All the usual suggestions were made: 'You're on mute, have you tried turning it off and on again, have you tried using a different browser?'
All the while I was sat there in the corner, waiting patiently, going over my notes and trying to get more of them in my head. But 1pm was nearing, when the magistrates break for lunch for 1 hour. With the magistrates out of the room, the prosecutor was on the phone to the police officer trouble-shooting but to no avail. It was not in my interest to be giving evidence when the lunch bell goes – I would be under oath and not allowed to speak to anyone. And also I knew there was plenty of evidence to say sentences are much more favourable after lunch! My solicitor suggested to the clerk we pause proceedings to give more time to solve the tech issues.
The next 3 minutes were a blur: the prosecutor got off the phone, spoke to my solicitor, who loudly said thank you, came over to me and said he will be dropping the case… my mum comes over and says – is the case being dropped? I just replied that I've no idea what's going on! Let's wait until it's over. We rose again as the Magistrates re-entered thinking they were going to call a lunch break. The prosecutor stood and said, "We cannot bring forward our evidence for today's trial, so I'm dropping the case". Even with a mask on the reaction of the head magistrate was visible surprise. "What?" The prosecutor repeated himself. After a pause, the magistrate said; "Case dismissed. You are free to go."
And that was it. No fine. No criminal record. Nothing. Nada.
The case was dismissed because the court's equivalent of Zoom wasn't working.
A very 2020 reason if ever there was one.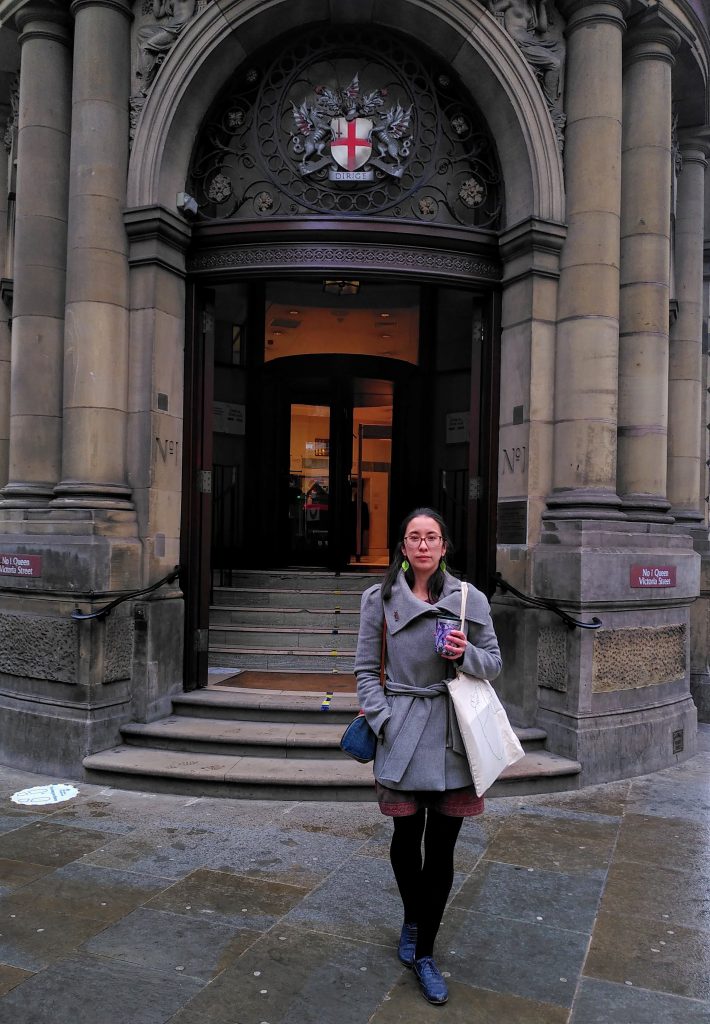 The aftermath
After speaking with my solicitor, I learned the prosecutor had been kind and dropped the case. He could have adjourned it. I'm not super clear on why – something about the officer having an injury meant that she was unlikely to be available next time, or was it more tactical? It's possible my defence cast enough doubt that the magistrates might have been lenient. If I were to be found not guilty, future trials would be more likely to go the same way. This way the prosecution drop one case but buy themselves time to respond more fully to future cases.
Another aspect to consider is the money. Our session in court had lasted 4 hours, requiring the time of 8 professional people and out of 3 trials none went ahead. Two were postponed in part because the defendants had not received their bodycam footage from the CPS, which should have been sent back in October. The CPS dropped mine after the tech glitch. That feels like a collossal waste of money. Not to mention I am now entitled to reclaim my costs back from the CPS.
My trial was the first of the year and looks like it was the first of the October 2019 obstruction trials. There's approximately 799 XR defendants going to trial after me. Researchers following XR cases have said, "What we are seeing looks very much like political decisions to charge people and to take them to court for very minor offences, and that is extraordinary. I can not think of a precedent [in the UK] where that has happened before on anything like this scale." (Read the Guardian article here)
Back to my case, I was in shock for a while. The adrenaline had been pumping around my body for more than 5 hours. I had pictured myself in that box appealing to the Magistrate's morals and articulating the seriousness of climate change. I wasn't sure I was gonna ace it but I was going to have my moment in court. Not anymore.
But at least it was over.
We all said our thanks then my mum, Gordon and I headed to the only place nearby that was open, Pret, and bought lunch. I treated myself to an almond croissant. Huddled in the entrance of Cannon Street station, we chewed on our food and over what had just happened. They were just as surprised as me. As we headed back to Essex a headache took over and the tiredness hit me.
Two days on, while I'm super grateful to not have a criminal record, I am disappointed. Three months were leading up to that day, if not a year and three months, and climate change was not mentioned once. It was such an anti-climax that I don't have closure on it. I will never know what the magistrates would have decided, whether I would have risen to the occasion or crumbled under nerves.
So here's what I've decided to do.
I'm sharing my summary statement here. I've also recorded the audio because it felt important to use my voice.
Defence Statement
This is the statement I meant to give, if the original plan of self-representation had panned out. This is why I engaged in peaceful protest on 9 October 2019. You can choose to read it or listen to it.
---
Like many of the defendants, this is the first time I have been in a situation like this. So forgive me for my nerves.
Your Colleagues, until recently I followed all the rules, did what I was told, got the degree and the good job, paid my taxes, and went on nice holidays. I knew intellectually Climate Change was creeping up on us but since I was neither a scientist nor a politician, I felt like it wasn't up to me to change anything.
My career in communications has taken me to indigenous communities around the world, tasked with amplifying their stories to wealthy nations like ours. You can intellectualise 1.5 degrees and 410 ppm but it's near on impossible to compartmentalise stories of bereft but determined Diana, whose father was murdered by illegal loggers in the Amazon rainforest, or of my Dayak friend, Mina, whose childhood home was transformed into one of the first palm oil plantations in Indonesia. 4 environment defenders are killed every week. That is more than just a statistic for me. Still, I felt I was doing some good – until I read the 1.5 degree report from the UN's scientists at the end of 2018. And particularly how much of a historical responsibility my country had in the making of these connected crises. It was a visceral punch in the gut: finally I had gone from knowing climate change to feeling it. Your Worship, I invite you to feel the weight of the climate and ecological crises, in all its messiness. After 3+ years of international travel I made the commitment to return home and be as useful as I can in the time we've got left to prevent runaway climate change. It dawned on me, not being a scientist or politician was an excuse for inaction. I am a citizen and I have power.
In my steep learning curve to citizenship I have hosted presentations on climate science, organised family face paintings, met with my MP and joined climate strikes. I've even had a go at stand-up comedy to raise awareness. I have also learnt about my rights and historical grassroots strategies that brought about "rapid, far-reaching and unprecedented changes in all aspects of society'", the very thing the 2018 UN report calls for. One of those is peaceful protest.
I took action on the 9 October 2019 peacefully but knowingly. Strategically and proportionally. Proportionally because just last month as CO2 emissions continue to rise, the UN Sec Gen said "Can anybody still deny that we are facing a dramatic emergency?" and calling all nations to declare a State of Climate Emergency. Yet 2 years earlier, the UN report that changed my life had said "we have the technology to solve this crisis, what we lack is 'political will'".
It wasn't just an intellectual decision, it was a marriage of head and heart to use my body to sound the alarm – on a relatively quiet, and private road, right at the back of Downing Street, the heart of where institutional and economic decisions are being made. The place that decides whether we hit our climate targets or not, pursue limitless growth or not. I was not risking my life taking this action, many others around the world making peaceful protests are. I am grateful to be a citizen in a nation where I can exercise my right to protest and would like to acknowledge that I was treated well by my arresting officer and while in custody.
When preparing this statement just before Christmas I received 2 pieces of news that for me tease out the tightrope I find myself upon; latest scientific estimates suggest we will cross the 2 degree threshold in approx 2045 – we can expect 40 000 excess deaths due to heat in the UK, and tipping points that we will be unable to reverse from melted permafrost. In the same breath I learnt a dear friend of mine is pregnant with her second child. I plan on still being around in 2045, when my friend's child will be younger than I am now, with their adult life ahead of them. What will that world look like? Climate scientist Mike Berners-Lee, in his latest book calculating the carbon footprint of everything, has estimated reduced life expectancy to 60 for those born from 2020 onwards here in the UK due to climate and ecological crises if we continue on our current trajectory. Therein lies the necessity of my actions on that day: in fact necessity and urgency infuse all of my actions these days.
The science has been clear on the climate crisis since I was 3 years old. In 1990 the first UN report came out suggesting that 1 degree of global warmth would create social instability. We are on the threshold of 1.2 degrees warming today and its consequences are knocking down our house: not just in the burning Amazon or in the desecrated forests of Indonesia, but floods in Bedford, storm Bella and children dying from air pollution right here in London. Now I am 33 and I have put my own family plans on hold. I am struggling to reconcile bringing new life into the world while we head towards climate breakdown in my lifetime. In pursuit of being as useful as I can I participated in the protest, not only to sound the alarm of the present but also to create a window to the future: a city less dominated by cars & pollution; one of louder birdsong and clearer air; and communing with strangers. Architect of the Paris Agreement, Christiana Figueres says; "Because these crises have collided we have the responsibility to converge the solutions." To me, this was a hopeful action, filled with purpose.
Since my arrest, a global pandemic has devastated our society, by a virus exacerbated by our rampant conquest of wild spaces and global travel. I have shifted my professional life towards the climate crisis, now delivering workshops making the science more accessible to everyone. Despite global lockdowns, I have reached more than 150 people in 30+ countries. In my last workshop of the year, a scientist from Iraq joined. As we discussed the very human consequences of climate change – health, refugees, famine and conflict – she flatly shared how all of these were very current in her country. She's part of Iraq's climate team putting together their Nationally Determined Contributions in accordance with the Paris Agreement, the next event taking place in the UK later this year. I asked how she felt about it all. She said, "I feel pain. Pain when I think of the gap in the negotiating rooms between the rich and poorer countries."
What are we going to do?
Those of us with institutional power can look for leverages for change. While I profess no knowledge of our legal institutions, I understand that the campaign for ecocide, to prosecute polluters like war criminals, is gaining momentum. As someone outside of most institutions, peaceful protest was my lever. To be present here, in front of Your Colleagues. Like conscientious objectors of the past, I stand here today as a conscientious protector. It's unlikely the law will change in my favour today but perhaps my actions and those of my fellow citizens will move the needle a little in the right direction.
I'd like to finish with one last quotation from Christiana Figueres from her new book The Future We Choose, which I read at the start of the pandemic:
"When you are faced with hard realities, look at them with clarity, but also know that you are incredibly lucky to be alive at a time when you can make a transformative difference to the future of all life on Earth.

You are not powerless.

In fact, your every action is suffused with meaning, and you are part of the greatest chapter of human achievement in history."
Thank you for hearing me out.
---
Thanks
Thank you to Jenny, my solicitor for representing me so last minute. I definitely think it had an impact on how it all played out in the end. Thanks to XR legal for funding my representation and for the behind the scenes organisation and Gordon's presence.
Thanks to all folks checking in or gently nudging me; Chris, Mel, Jenny, Allison, Marie-Anne, Ana, Sarah, Beth, Colin, Miriam, Ellie, Daphne, Kas, and Jaye. And finally to Jayme and my mum for putting up with all my procrastinating stroppiness.
It is done.
---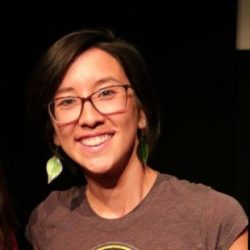 Sophia Cheng
With a decade of communications experience across the for profit and nonprofit sectors, agency and in-house, Sophia has made a habit of making 'the hard stuff' more accessible. Since 2018, she has reorientated her life around the climate crisis. She has forged her decade of communications experience into offering workshops, mentoring, blogging, and more, on the biggest issues of our time.
View all posts