Curiosity led me to Giant Peach's event in London Bridge this evening.
The audience listened to 3 case studies of companies establishing themselves as social enterprises and their journey, Giant Peach, Brigade and BELU. It was a timely reminder that being an ethical business impacts all areas of the business not just HR and environmental impact. But every facet.
Bill Huxley of Business Against Poverty argued that sustainable business = sustainable communities = sustainable economies and therefore real growth.
Karen Lynch, CEO of BELU summarised it effectively; a business where society profits.
Now I am not a social enterprise and currently provide communications consultancy and support to NGOs and startups. And it's just me. But where do I draw the line on where my business ends and my personal choices start? Do I make an impact?
All of today's speakers echoed a core sentiment; people are at the heart of every business, organisation and community. Empowering individuals to make more informed and more ethical decisions and choices is one of the core challenges we face today – with the direct impacts of climate change and overconsumption ever encroaching our play pen of ignorance and safety.
So it is a fitting coincidence that today, I have put my money where my mouth is. In an attempt to be a more ethical consumer (and for my business to make more sustainable choices) I have pre-ordered the Fairphone 2.
---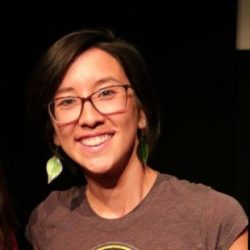 Sophia Cheng
With a decade of communications experience across the for profit and nonprofit sectors, agency and in-house, Sophia has made a habit of making 'the hard stuff' more accessible. Since 2018, she has reorientated her life around the climate crisis. She has forged her decade of communications experience into offering workshops, mentoring, blogging, and more, on the biggest issues of our time.
View all posts