Should I protest (again)?
27 August 2021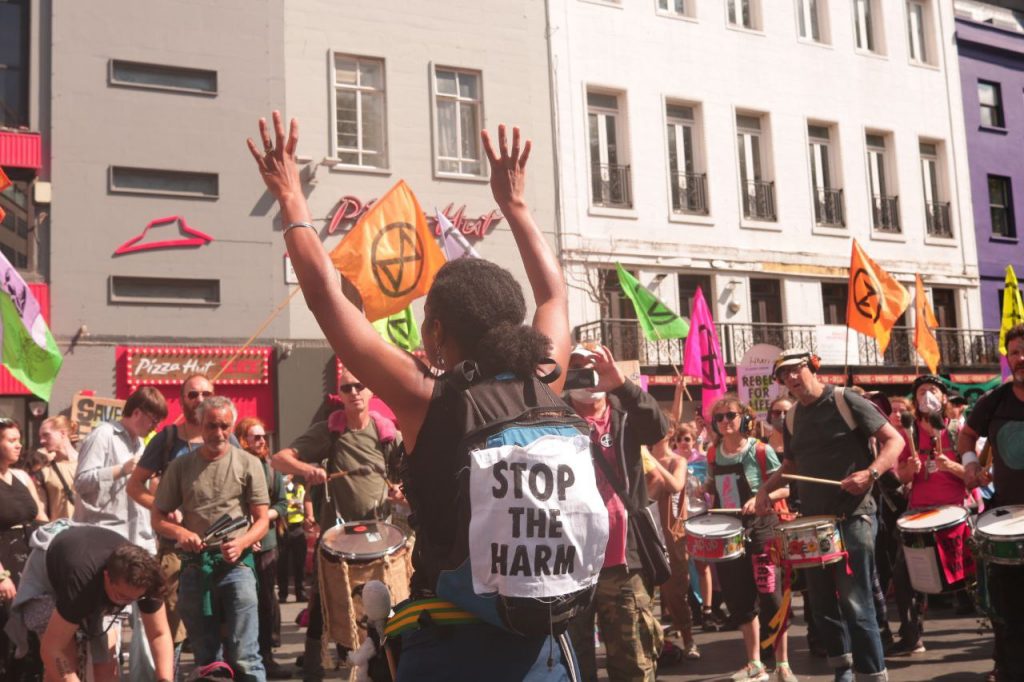 This is the question I was asking myself last week.
The last time I protested was 2019, it was new to me then but I did the work: I learnt about how social change happens (Spoiler: there's nearly always an element of disruption), learnt my rights and I found my people. I took time off work and I stepped up in ways I never imagined I would.
But 2021 is a different world. I have not attended a mass gathering of any kind since and my role had shifted; from tackling climate crisis on the side to it now occupying most of my time albeit in a very different format. I have not been involved with any in-person activism since either. Here's where things stand now: I am getting paid to educate people and corporates on climate science.
How does going back to the streets impact that?
Oh and I now also have relatives in the Met Police. One of them is Passing Out today as a police officer (I am so proud of them!)
The key institution between the activists and the politicians (most often the target of the protest) is the police. And now they are no longer a faceless institution.
How does going back to the streets impact that?
Cue ego turmoil.
Will my new clients think differently of me? Will it affect my business? What about family relationships? Will I be useful?
In the end I decided to show up. I brought a friend along with me who had never been to a protest before but had been impacted by a climate presentation I had given in 2019 and had subsequently shifted her career towards climate education too. I wanted to show her how it all worked, that there was structure and organisation behind the chaotic samba drums; that there were plenty of other people out there who were worried; what the legal right to protest looked like and how polite the protesters and police are. It was a live lesson in non-violent direct action.
But I also brought along my climate science.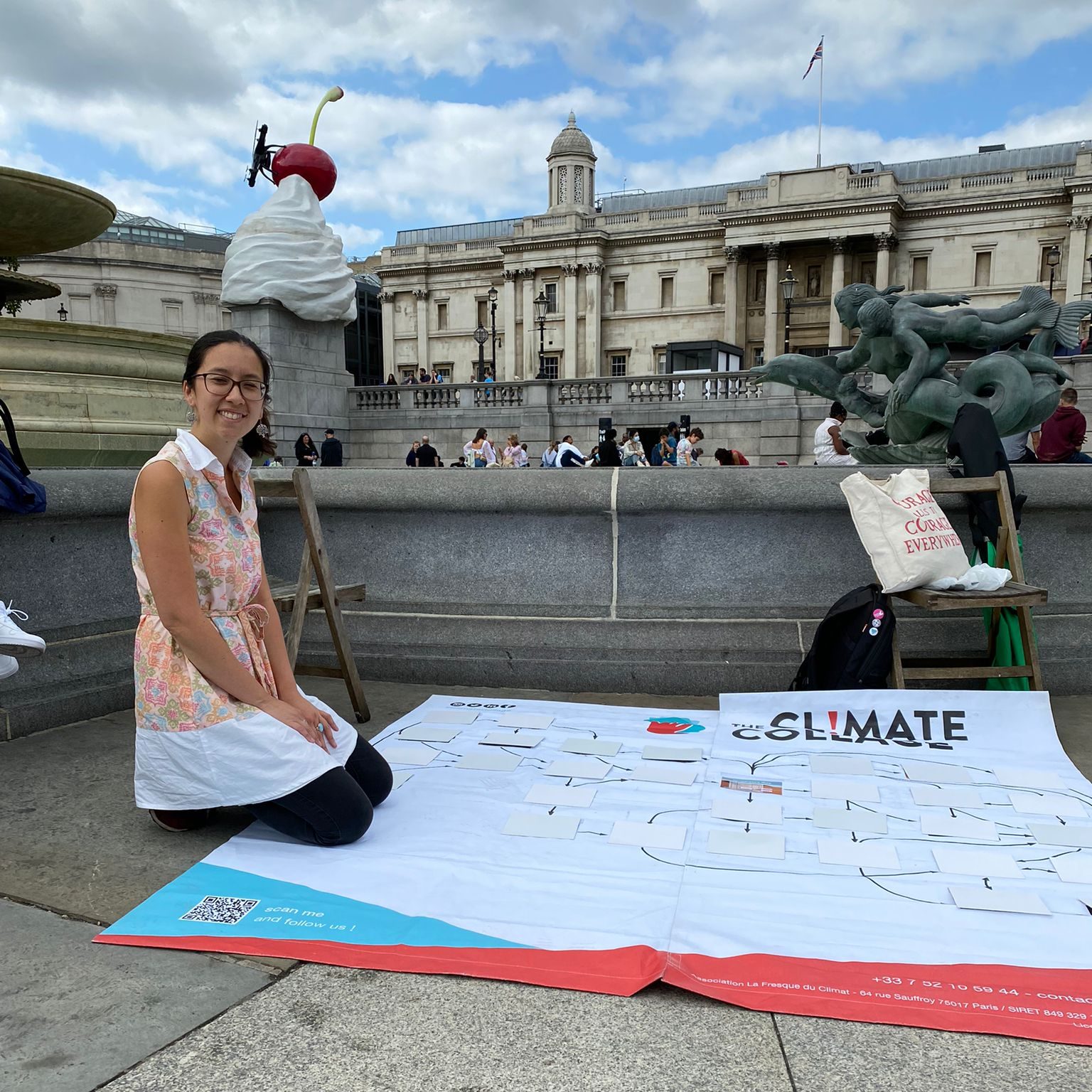 I brought along a different format of the workshop I'd been delivering and see if I could hustle up some interest. We tried in St James Park (we were told to move on), Trafalgar Square where I met an incredibly bright 10 year old who told her mum they won't drive be driving to school anymore, and Leicester Square where the hither to unknown street performer within emerged; "Roll up, roll up get your climate science here! We're now 1 degree warmer sir, how did we get here?" I even managed to squeeze in a 'oh no it isn't, oh yes it is' before the samba band went back to jamming.
A central theme to this Rebellion is 'Crisis Talks', you might have seen the giant table erected in the West End on Monday. If you looked around you would spot smaller pink tables all over the place. The idea is to 'come to the table' to invite a dialogue with politicians and the public, to listen and to answer questions.
And that is basically my jam.
I realised at the end of 2019 where I could be most useful, making the science more accessible and helping people have better conversations.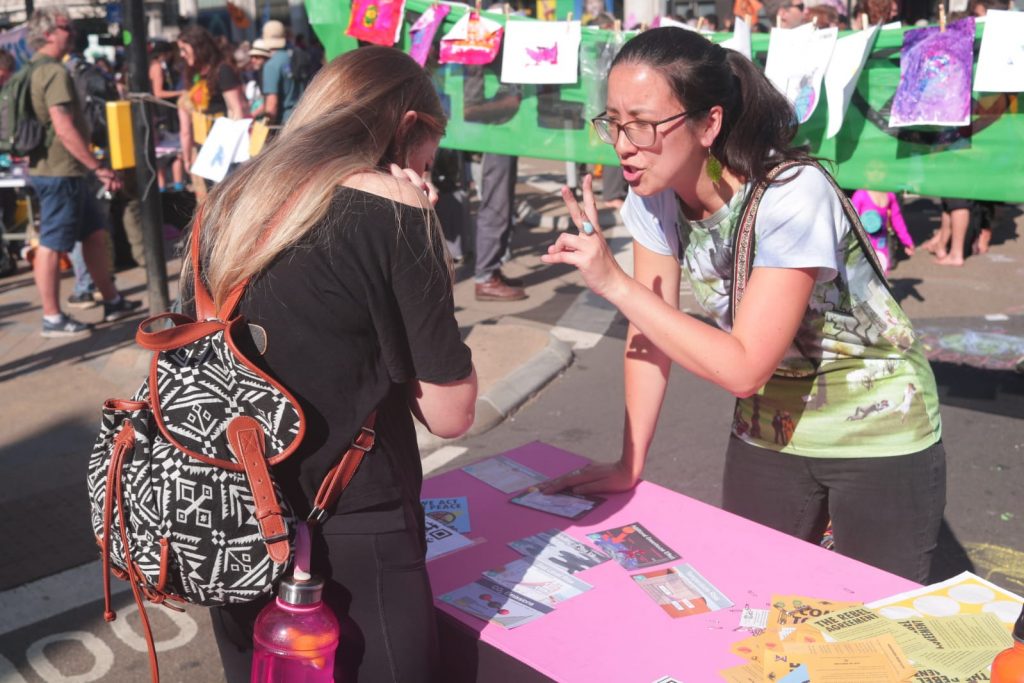 So when XR occupied Oxford Circus again (a throwback to when a pink boat was there in 2019) I took to a pink table and got out my cards. I invited those who cautiously crept closer to see if they wanted people to play my climate change game. And it was a lot of fun. I met a lot of rebels who gave me that knowing 'I'm one of you' nods. To which I reply;
But every day is a school day. Come and learn with me!
The climate science is hard, so helping the people who are very likely to talk to other people about it feels important. One woman approached saying she felt ashamed she knew so little and was worried about getting it wrong. She said she had a hard time trying to explain to her peers the gravity of crisis. So we took our time and went step by step, and of course she knew much more than she thought she did. It was wonderful to see how pleased she was with herself by the end. It's just like the kick I get when I can see the penny drop for someone in my workshops.
It's such a thrill.
Then there was the another occasion. I spotted a fellow facilitator in the thick the action, right by the police line. We decided to get the cards out and take a small group through the science. It got the attention of one police offer who was bantering about wanting to play a (climate change) game too.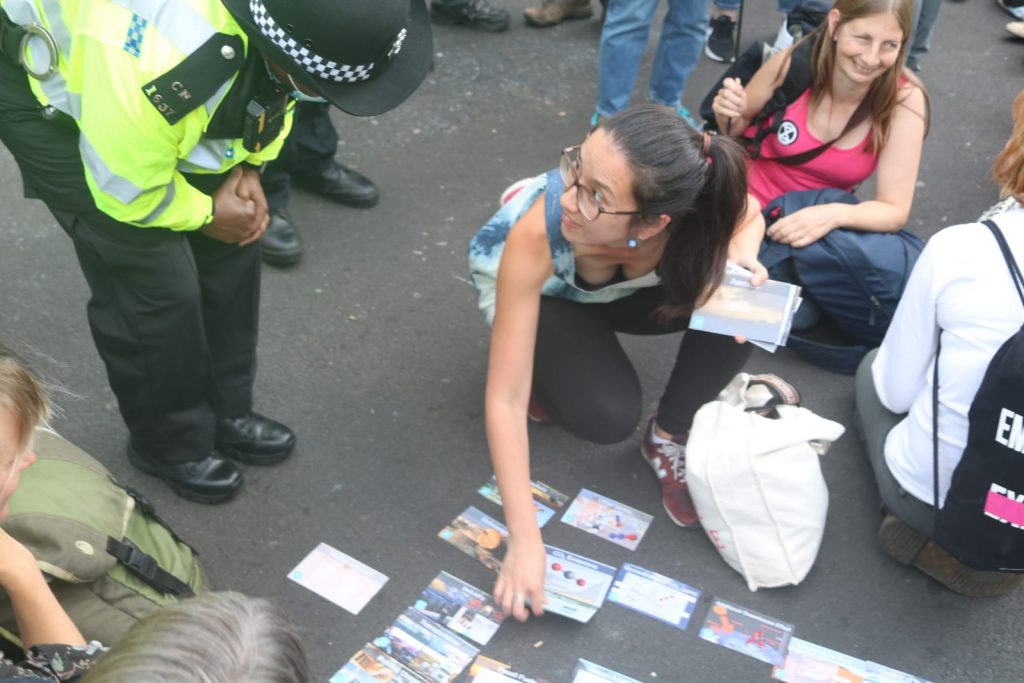 I started laying out the cards and some rebels were working out the relationship between CO2 and greenhouse gas emissions, placing industry upstream as a driver when a police woman bent down and told me I'd need to pack up and move along. I am 'Rebel Lite' at this Rebellion and started doing as I was told.
The playful policeman in the cordon loudly responded, "Oh no, we won't get to know how the game ends."
With a smile on my face I looked straight at him and said,
"We know how this game ends, that is why we are all here."
And it's true.
I have taken more than 350+ people through the climate science during lockdown. (You can sign up here) We start with the human drivers of emissions, industry, transport, building usage and agriculture and we end with famine, climate refugees and armed conflict. This is where it ends if we continue business as usual. This is where it already is for many communities around the globe.
Doing nearly all of these workshops online had meant it has been very heady, mostly intellectual. And I have gotten comfortable. It was time again to use my body, my physicality. To use my presence to take up space, and more of my body than can be captured on a Zoom camera to communicate. I needed to push myself, to be ignored by passers-by, make eye contact with strangers and see how I might lure in the curious. To feel again the flush of resistance when I am told to move on, finding courage in community and noticing how my conditioned obliging self hits against my rebellious side.
I also wanted to be reunited with my local rebels, to exchange tales of 2019 and how lockdown has impacted us all. My experiences with these people have changed my life and career it was great to reflect over a drink at the hostel. To bump into people from Bristol, and Teignmouth that I'd met during my UK roaming. I was even approached by a young woman who recognised me from 2019 when I was doing some outreach, we worked out we had been at the same school. She hadn't been able to get involved back then but wanted to show up to this rebellion, she had taken one day off work and arrived alone. Now that is brave to me. I was glad to be able to connect her up with XR folks in the new town she had moved to.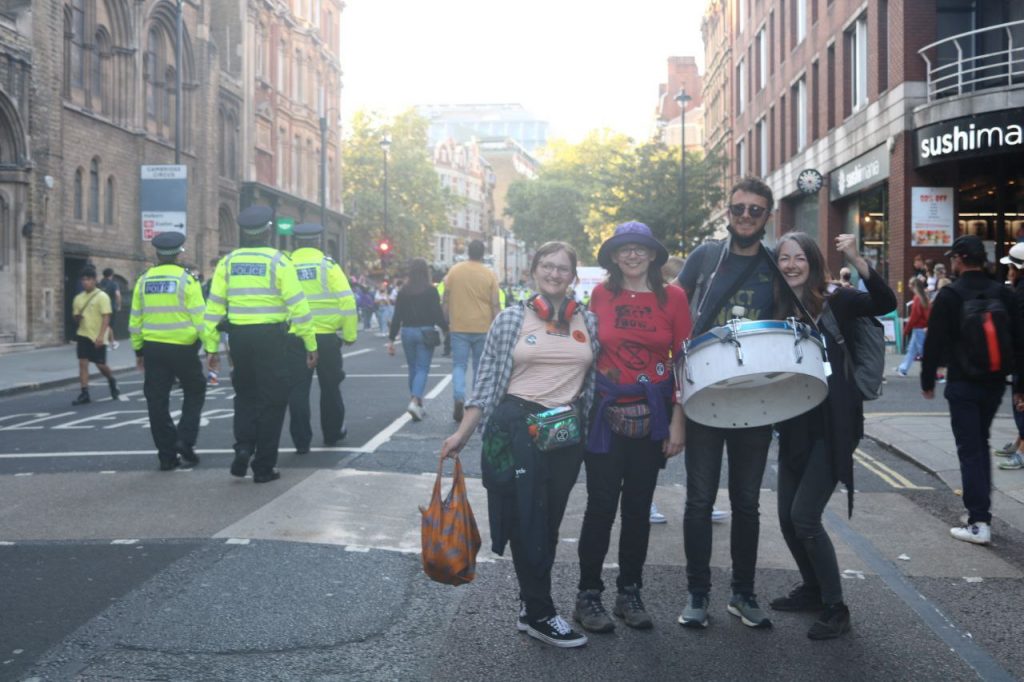 I am so glad I attended for 3 days. I'm exhausted but wish I could be there for more of it, especially to hear Kate Raworth speak yesterday. I livestreamed it instead from the comfort of a sofa. This woman has become a hero of mine as I absorbed her ideas of 21st century economics from her book Doughnut Economics during lockdown. Applying her principles in my business is how I've reconciled being another entrepreneur: there is another way to do this. My business is forging the new frontier on fairness and wealth. I bring my full self to my business; some days that's talking to senior corporate leaders, some days that's talking to strangers on the streets.
And she summed up perfectly why I've decided to protest again – and importantly share publicly why I'm doing it again:
"I don't want to be on the wrong side of the police and the law but I really don't want to be on the wrong side of climate change."
That is the tension to hold.
And talking about police, my relative's ceremony starts in an hour and I'm livestreaming that too.
👋🏼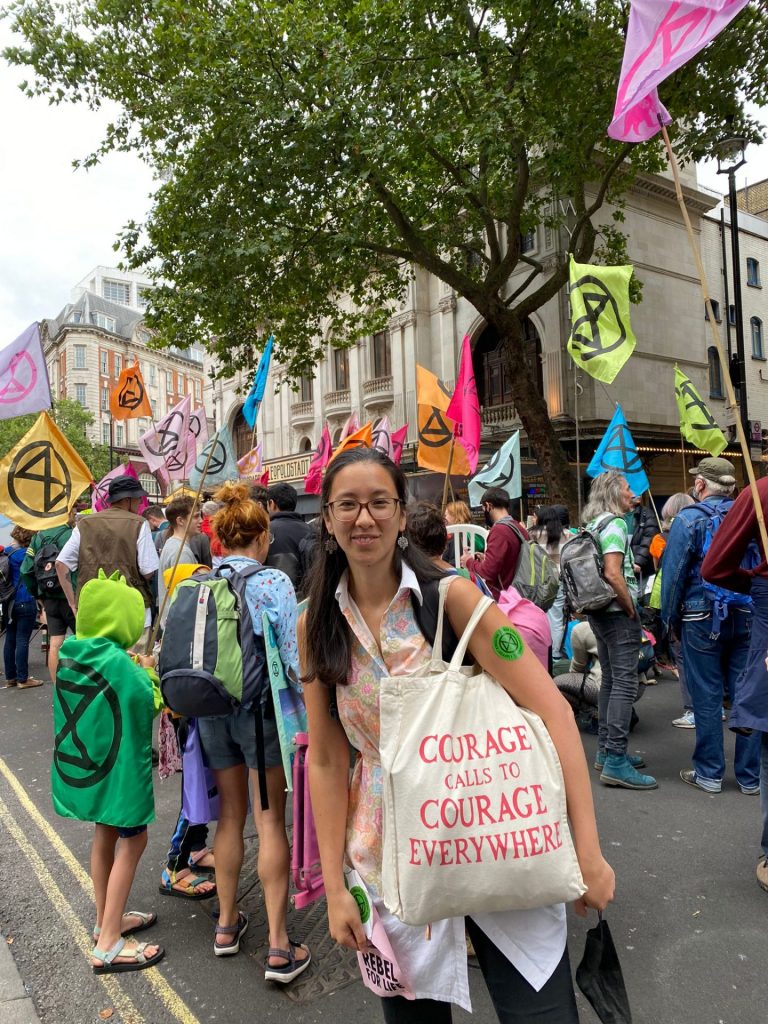 ---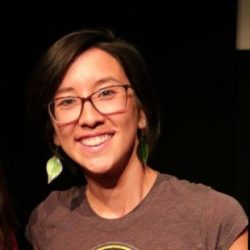 Sophia Cheng
With a decade of communications experience across the for profit and nonprofit sectors, agency and in-house, Sophia has made a habit of making 'the hard stuff' more accessible. Since 2018, she has reorientated her life around the climate crisis. She has forged her decade of communications experience into offering workshops, mentoring, blogging, and more, on the biggest issues of our time.
View all posts