So this month I am taking With Many Roots on the road. Why? Because technically it needs only a laptop and a wifi connection to sustain it. And as its sole employee I would like to test that theory out. Properly.
Diving into the challenge of running your own affairs must allow some perks and I by no means think I am alone in wanting something a little different from the norm out of my career.
Google 'Digital Nomad' and you will find heaps of blogs, forums, articles in all mainstream press, a trending hashtag even a Digital Nomad Academy!
I didn't know anyone personally who was doing the same thing but leapt on a great suggestion from the Exploring Alternatives blog;
"Surround yourself by people who are doing it already. Spend time observing the people in your life who are doing interesting work. What do they do? How do they do it? If you don't know any people working online in real life, look for them online. Follow blogs and watch YouTube videos to find out how other people earn a living while traveling, and then take baby steps towards making it happen for yourself."
So two months before d-day I started following these Facebook pages. It meant the news of new lives, new houses and new life commitments of my peers were regularly interspersed with travel inspiration, tips, honest accounts of daily life on the road and some fantastic photos. A healthy balance I would say.
And of course my favourite source of inspiration these days
These guys are a great springboard into the world of the unknown, making that gut fear you have about doing something that seems crazy to your friends (and often in your own head) feel a little bit more achievable.
I would recommend anyone else to do the same.
So here I sit in a London bedroom that is rapidly returning to the white box it once was 3 years ago with dwindling belongings, thinking about what life might be like in 2 weeks time.
I am not setting my expectations too high, this might only last 2 months. But I am planning for 7 and hoping for a year plus. A lot depends on bringing in the work.
My first stop is Slovenia, a small attic apartment in the Triglav national park, then Paris. A month in each.
Perhaps my work will be influenced by the countries I visit. But if nothing else I hope I will establish a more sustainable work/life balance and when I do switch off work mode I will have the option to explore the nature and the culture of my new local surroundings. I feel very privileged to have this opportunity. I am scared but the prospect of festering in London was scarier.
So, follow me on my journey if you like. The ups and the downs.
---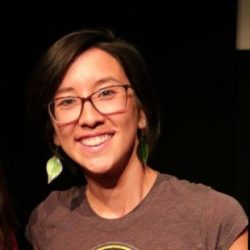 Sophia Cheng
With a decade of communications experience across the for profit and nonprofit sectors, agency and in-house, Sophia has made a habit of making 'the hard stuff' more accessible. Since 2018, she has reorientated her life around the climate crisis. She has forged her decade of communications experience into offering workshops, mentoring, blogging, and more, on the biggest issues of our time.
View all posts