Digital Nomad Guide to Yogyakarta
13 June 2017
Seeking a work/life balance in the heart of Java, Indonesia

This article originally appeared on Women Digital Nomads – take a look here: http://womendigitalnomads.com/blog/the-digital-nomads-guide-to-yogyakarta-indonesia/

Yogyakarta is a small city with a lot to offer digital nomads. If you're tired of the Jakarta traffic or tired of the tourists in Bali – Yogyakarta might be the happy medium you're looking for in Indonesia! Yogyakarta is famous for being the cultural heart of Java, batik, poetry and puppet performances are in abundance here. And of course UNSECO World Heritage site, Borobudur is only 2 hours away. One of the things that makes Jogja (pronounced jog-ja) unique is compared with many other Indonesian cities, it's fairly walkable with pavements and parks.
Situated in central Java (the province is called Yogyakarta Special Region) Jogja is easily accessible by flight, including some international locations like Singapore and Kuala Lumpur – it's also easily reached by train from Jakarta (see blog post about the journey here) and Surabaya and then by ferry to Bali.
And for nomads specifically, there is a range of accommodation options, cafes with reliable wifi, a variety of delicious eateries, including great veggie options and some co-working spaces have just come on the scene. Have I piqued your interest? Read on and check out the map below.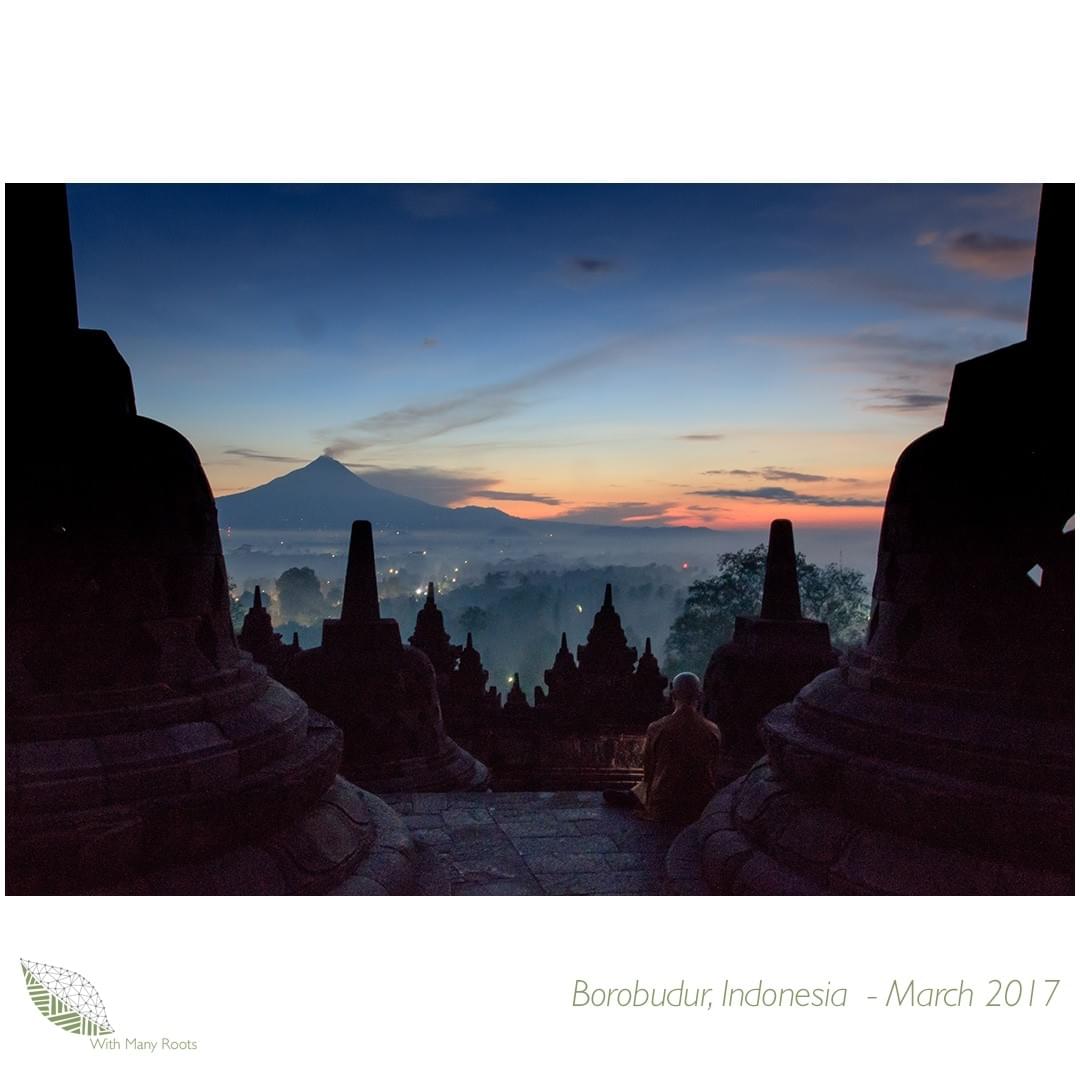 Much of Jogja centres in the walled old town and then the ring road, in the last 15 years the city has seen huge growth, spilling outside the old boundaries. The city does attract tourists and so English is spoken in many places but it's also THE place to learn Bahasa Indonesia – so why not take the opportunity while you're there and have a few lessons. I've listed some recommendations below.
Let's start with eating – it's as important as working right, if not more so? These are just a few great spots to explore.
Milas
A beautiful zen-like veggie restaurant with no wifi. So it's for the times you want to switch off. This place has been around since '97, it's part of the slow food movement and proceeds go to supporting local youth initiatives. It's very centrally located and there's a very relaxed atmosphere once you step inside the garden, courtesy of soothing music and water features. It's a good place to unwind on a Sunday afternoon. There is an extensive menu available with western options; the tempe and aubergine was delicious. O and there's guilt free shopping available too with a range of up-cycled and local products.
There is also farmer's Market on Wednesday and Saturday mornings (8am – 1pm) with local sellers selling organic and local produce, including peanut butter and passionfruit jam, volcanic salt, tempeh, javanese pancakes and plenty more treats.
You can also get a year long membership to their extensive library, with books in 10 languages. At time of writing it costs Rp 35000 to join for a year and you can take out one book at a time for a 2 week period. For those traveling with kids they also offer a play group.
Address and extra details: Jl. Prawirotaman 4 No. 127B, Parangtritis. Open in the afternoons, closed Mondays.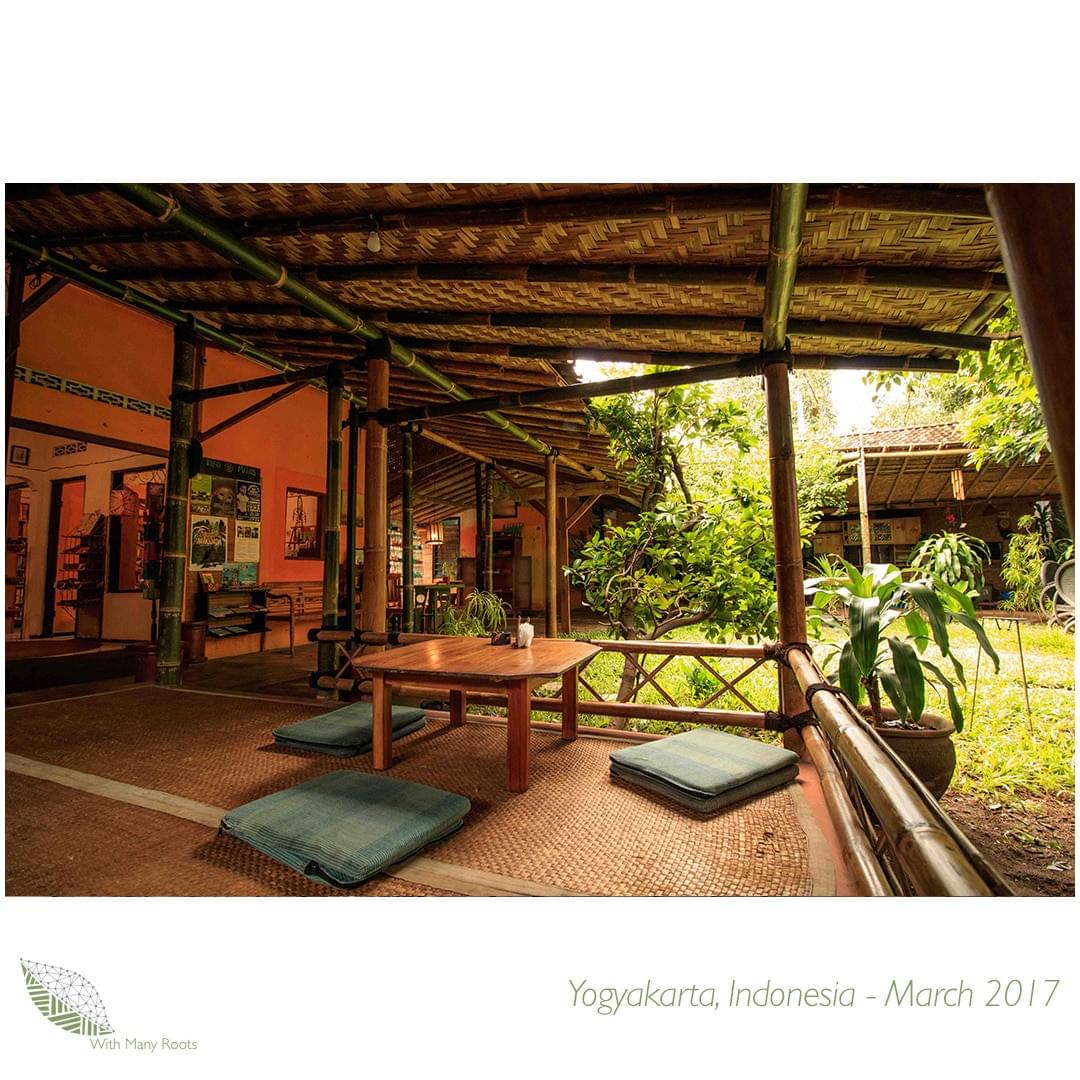 jeJamuran
If you're a mushroom fan you need to visit jeJamuran. Don't be fooled by it's now flashy exterior – jeJamuran comes from humble beginnings. A husband and wife duo started growing mushrooms on a small plot of land and selling them at a market stall – they have grown to a bonafide mushroom themed tourist destination. And the most efficiently run restaurant I've been to in Indonesia. An overwhelming menu but pictures to guide you, let your taste buds fool you and enjoy the celebration of this fungi. There's mushrooms growing on site for a photo stop and merchandise and tinned goods if lunch wasn't enough.
Address and extra details: Jalan Pramuka No.53, RT.01 / RW.20, Niron, Pandowoharjo, Kec. Sleman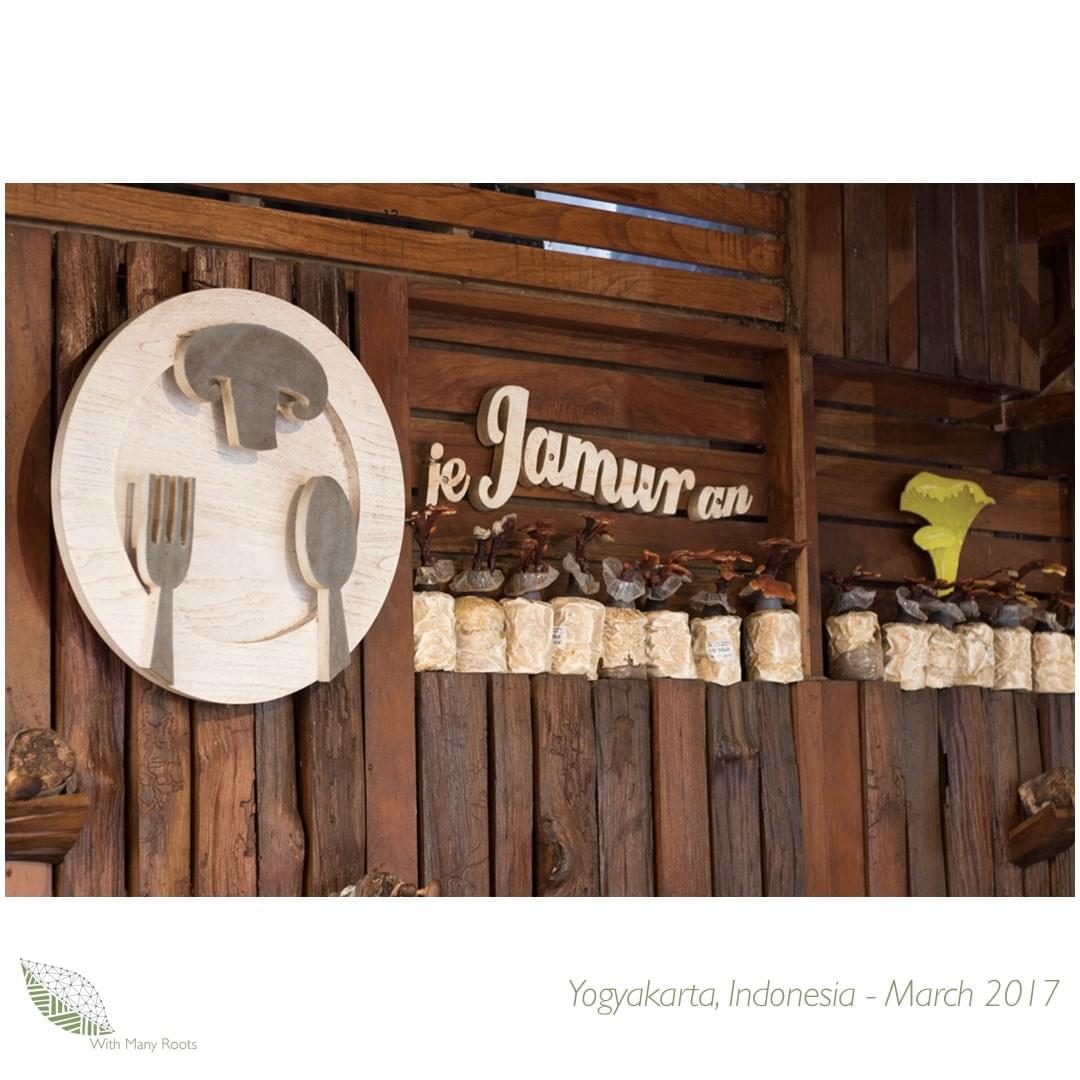 Art Kitchen Resto
Farm to table dining experience here, delicious food in this environmentally conscious building. It's also a great place for a massage and they often have very interesting art exhibitions going on.
Address and extra details: Jalan Prawirotaman II No. 629, Brontokusuman, Mergangsan. Check out their website here.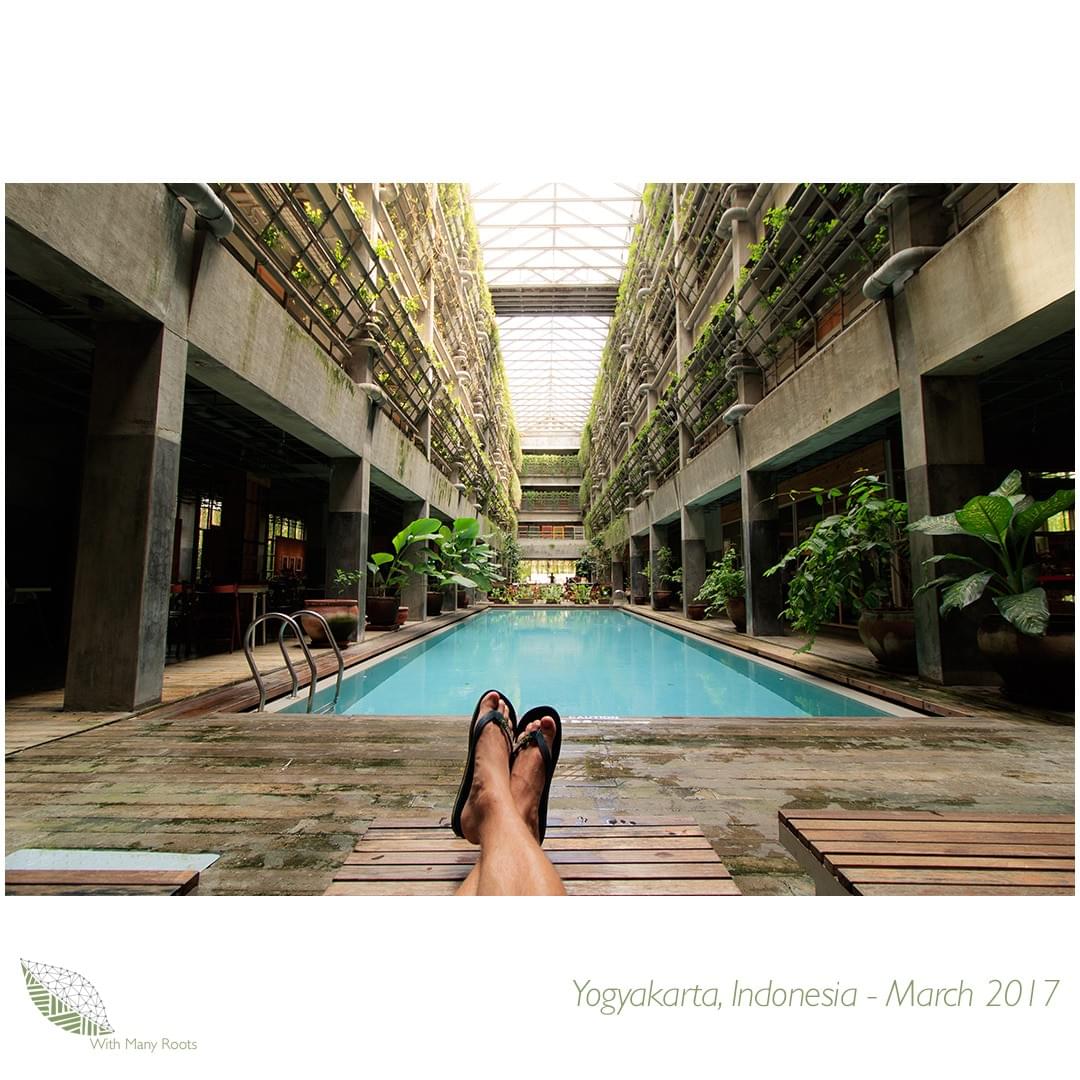 A quick run down on just some of the places you can feel comfortable with your laptop out and get a few hours of work in.
Move On Cafe
Move on is a large two-storey hipster cafe, plenty of laptop friendly space and plugs available. Extensive menu, particularly sweet pizza toppings! I tried the Nasi Goreng which was delicious and a iced long black. Their iced fruit drink selection is worth exploring too. Friendly staff and very reasonable prices. Did I mention the Indonesians do hipster very well indeed? Get ready to decide exactly which Indonesian isle you would like your ice coffee from.
Address and extra details: Jl Prawirotaman 4-10. Check out their Facebook page here.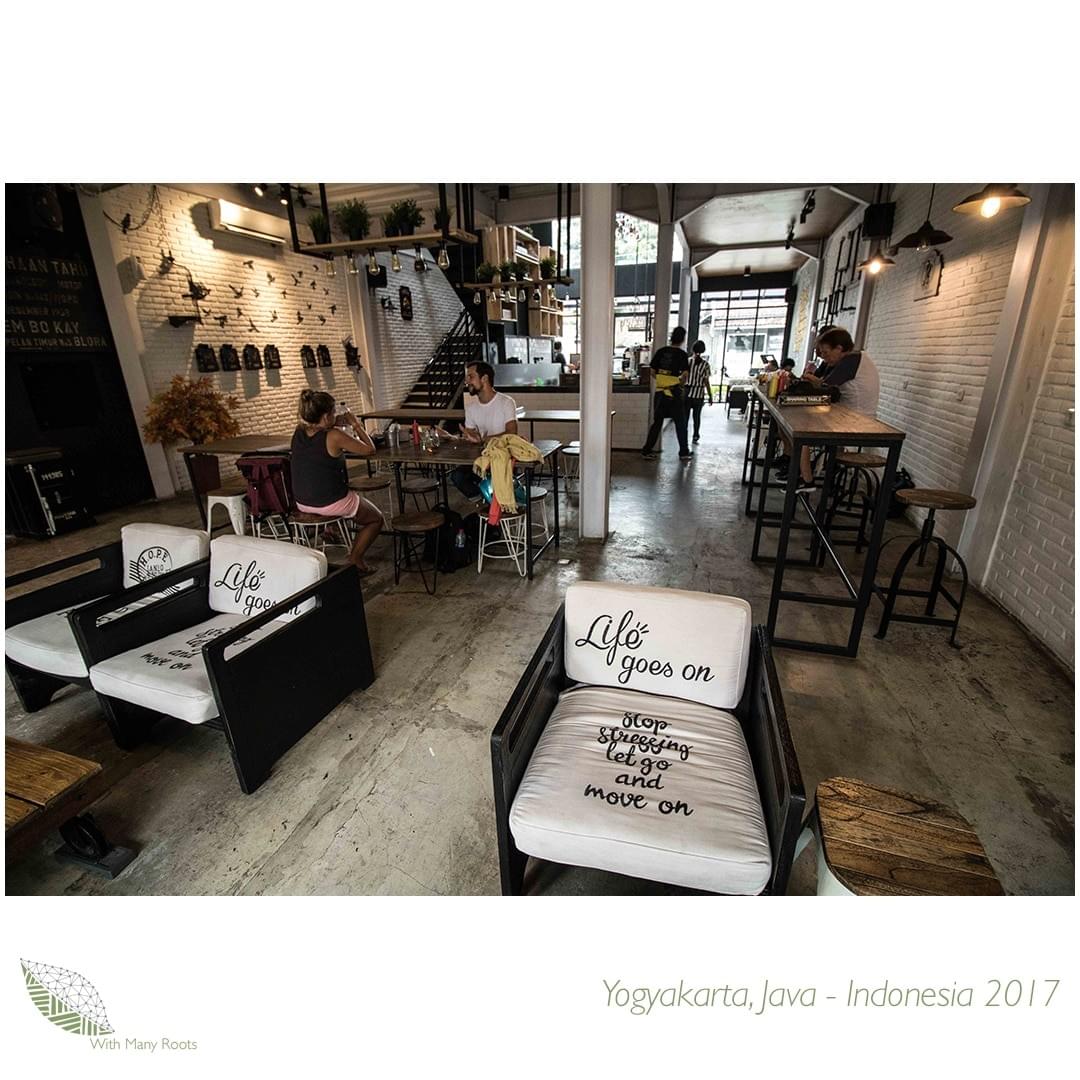 Fortunate Cafe
A small quiet cafe not far from the train station, fairly decent wifi with plugs at each table. Tasty coffee, with a wide selection from different Indonesian islands. Quite hipster, vegetarian menu again. Friendly staff, a bit thin on atmosphere but not a problem is you're busy typing away.
Address and extra details: Jalan Dagen, Gedongtengen, Pringgokusuman. Check out their Facebook page here.
D'Omah restaurant – attached to D'Omah hotel
On the outskirts of Yogyakarta on the way to the villages. Great wifi and a great spot over-looking paddy fields. A great menu, if a little on the pricey side.
Address and extra details: Jl. Parangtritis Km 8,5, Tembi, Timbulharjo, Sewon.
At the time of writing there seemed to be only 1 dedicated co-working spaces for short stays.
Ruang Tengah
Only opened in 2017 and run by Hendra and his team. This cosy co-working space feels more like you're working in someone's house, great wifi and friendly staff. There's a refreshment place next door. Hendra is well connected in the co-working scene and can help you with your nomadic needs.
Address and extra details: Jalan Sekardwijan No.33 A, Yogyakarta, Open 0900 – 2100 Mon- Fri, 0900 – 1600 Saturdays – Daily Rp 150 000 – Weekly Rp 750 000 Check out their website here.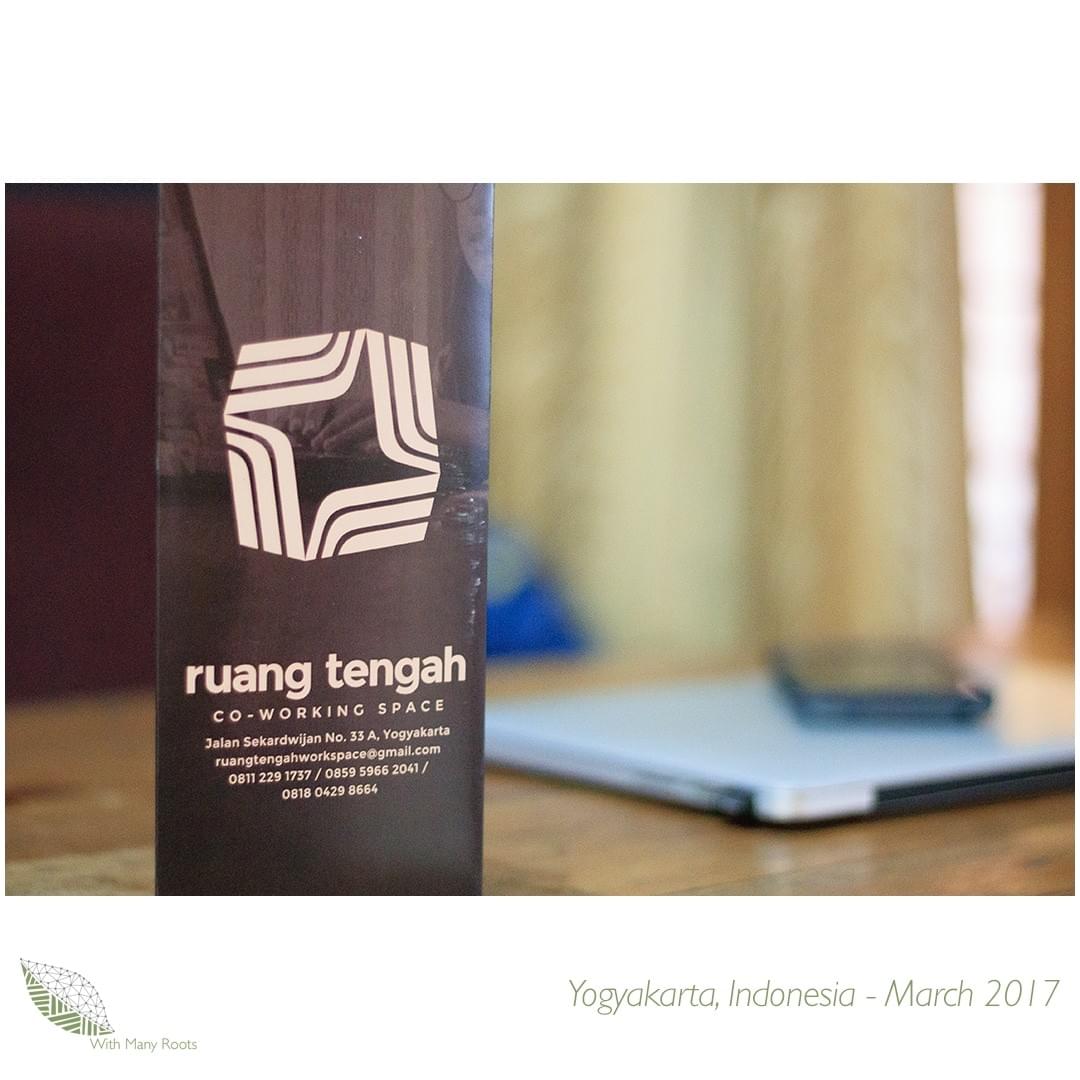 Pasar Prawirotaman – Fresh market
Always best to head here in the mornings to get the best produce and avoid the heat!
Address and extra details: Jl. Parangtritis No. 103, Brontokusuman

English language bookshop
Periplus
Great selection of bestsellers but for me there was also a range of literature, fiction and non-fiction based on Indonesia and neighbouring countries that had me coming back here a few times. A little pricey.
Address and extra details: Hero Mall on Marlioboro St.

Leksa Ganesha Batik Gallery
You'll be overwhelmed with the choice of batik in Yogya but if you're looking for something a little different I recommend taking a ride out to visit Tatang, a Batik artist come campaigner. After working at Friends of the Earth Indonesia, he now uses his artistic medium to create compelling art on environmental issues facing Indonesia. There's a huge array of Batik art at this cooperative, all created in the traditional way and there are many pieces using natural dyes and 10 % of all profits are donated to Indonesia's environmental recovery and conservation.
Address and more details: Jalan Parangtritis KM 8,5 Bantul, Yogyakarta. Check out Tatang's Facebook page here.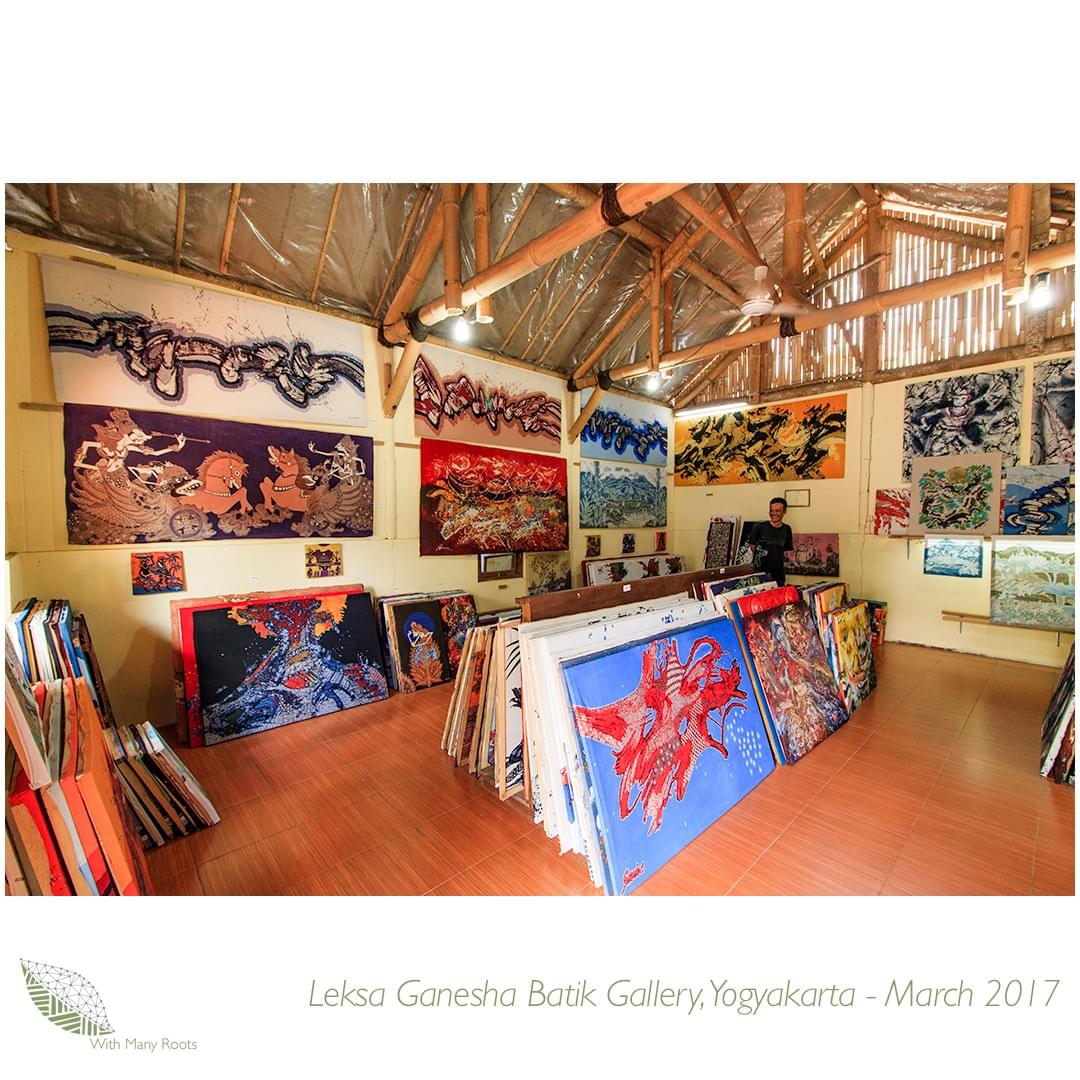 Travel agency / Events
Via Via Jogya
Fresh bakery, fair-trade shop, yoga, travel experts what more do you need?
Address and more details: Jl. Prawirotaman 30
Puri Bahasa language school
A centrally located language school with all female teachers. They are very flexible about lesson length and most classes are private unless you organise a group yourself. I attended this school for 2 weeks and was really impressed with how much I learnt, not just the language but also about Javanese culture.
Address and more details: Jl. Masjid, Gunungketur, Pakualaman, Check out their website here.
Wisma Bahasa
This is where many government and NGO programmes send their students. I did not attend this school myself but have heard many personal recommendations.
Address and more details: Jl. Affandi, Gang Bromo No. 15A, Mrican, Caturtunggal, Sleman – check out their website here.
Massage
Plenty of options here. Personally found Green Host Boutique hotel a great spot.
Cost of Living
It's very reasonable to stay in Yogyakarta
Scooter hire is around Rp 50 000/day
Food can vary from RP 15 000 – RP 100 000/meal depending on where you decide to eat
Fancy coffee: Rp 25 000
Iced tea: Rp 8 000
Accommodation: Rp 260 000+ /night for airbnb – hostels are probably cheaper, some hotels such as the Green Host Boutique hotel is Rp 600 000/night
Grab and Uber is available at time of writing.
At time of writing it is approximately 16600 rupiah to the £.
Safety
I felt safe in Yogyakarta, despite being in the outskirts. Use your common sense. Indonesia is a predominantly muslim country, modest dress is recommended.
Top tips
Try tempe
Try gudeg
Visit Borobudur at Sunrise
Get a massage
Get on the scooter and visit the beach
Discover the street art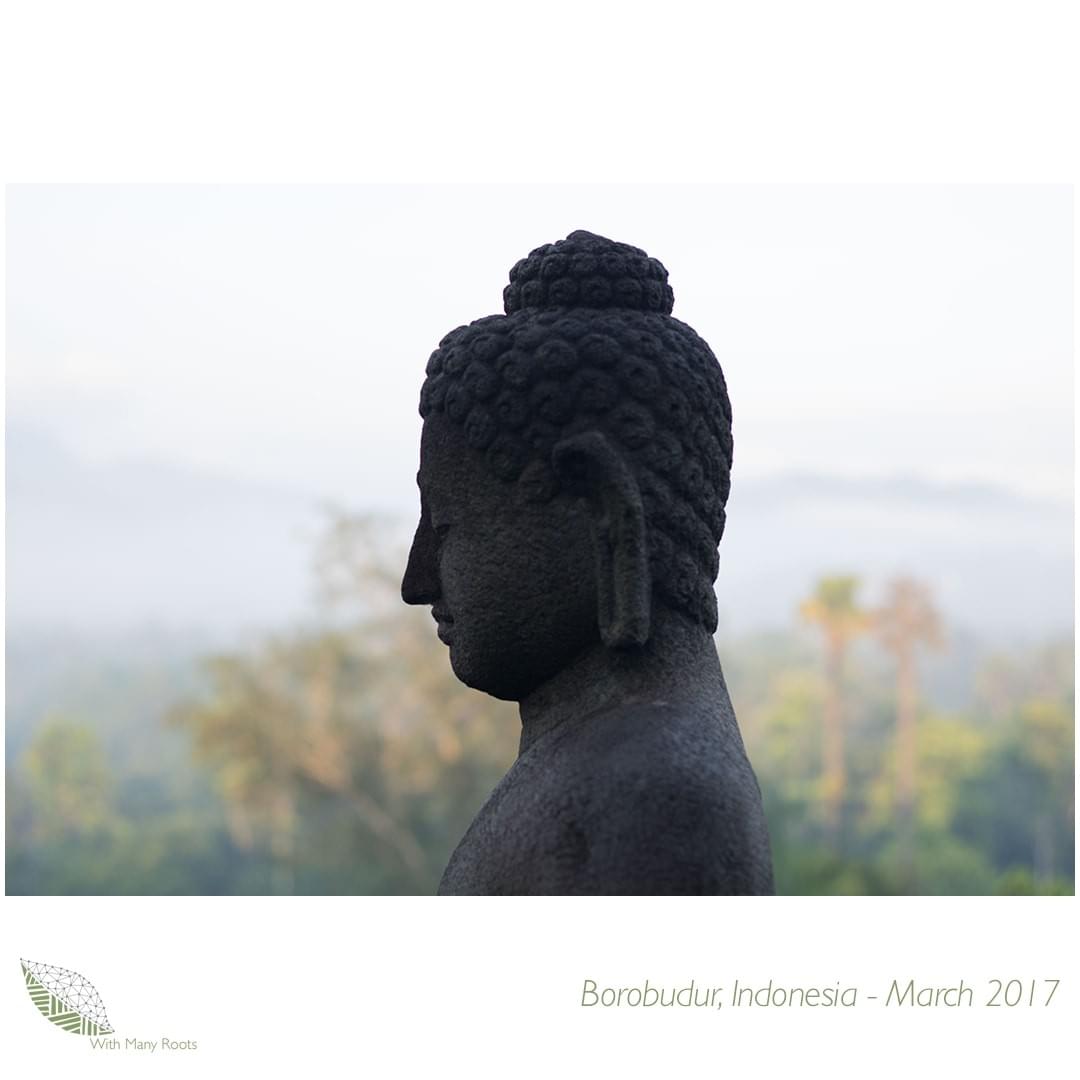 ---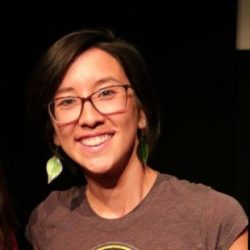 Sophia Cheng
With a decade of communications experience across the for profit and nonprofit sectors, agency and in-house, Sophia has made a habit of making 'the hard stuff' more accessible. Since 2018, she has reorientated her life around the climate crisis. She has forged her decade of communications experience into offering workshops, mentoring, blogging, and more, on the biggest issues of our time.
View all posts