California Road Trip
6 June 2016
Digital Nomad samples van life for the first time
I've dabbled in a bit of camping in my time, I'll admit now most of it has been in earshot of large music stages at some of the UK's largest festivals – so not completely in tune with nature. I've been supporting Campsited for a while now and the effect is obviously starting to rub off. Last month I tried camping American-style in Los Padres National Forest, north of Los Angeles. Suffice to say it whetted my appetite and when it came round to thinking about a road trip to finish our US trip in style, I was ready for the RV.
For those of you who don't know, RV stands for Recreational Vehicle (it's ok, I had to ask too) and you might be surprised to know it's not all caravans! RVs come in all shapes and sizes, the preoccupation in America is for the seriously oversized vehicles, otherwise known as Class A RVs. These top of the range vehicles can go for half a million, come with dishwashers, washing machine, cable tv, ovens, sofas, marble surfaces. It's a wonder they even move.
I opted for a mini-RV – not very American but something I was not intimidated to drive. Jucy RV, is capturing this niche market in the US. Originally out of ANZAC these are converted Dodge cars (English translation – same size as a Galaxy people carrier, perhaps a touch bigger). The trunk/boot is transformed into a kitchen, including a sink! Behind the drivers seat a table has been put in and extra storage that can be transformed into a double bed at the back. And there's a penthouse – a roof box that can be winched up to a spacious double bed. All this in brazen green and purple branding. It technically sleeps 4 but unless you're a family with kids or VERY good friends, it would be a bit too cosy in my opinion. With cooking utensils, crockery, stove, sheets and towels thrown in, after a quick stop at the supermarket we were ready to go!
At 17ft long and 7ft tall and automatic, it's very easy to drive and parks easily too. The compact size means it's much more economical on gas too, compared with larger RVs. There are no 'hookups' either. Hookups are RV jargon for plugs and hoses to supply electricity, water and sewage outlets from the vehicle and the RV site. The Jucy RV doesn't require these. You can charge from standard car lighter outlets and there are USB ports and a fridge that is powered from the secondary battery that has been installed. But there's no standard plug outlets, so laptops and camera chargers require stops at cafes – a drawback for some but it added some helpful structure to our RV days!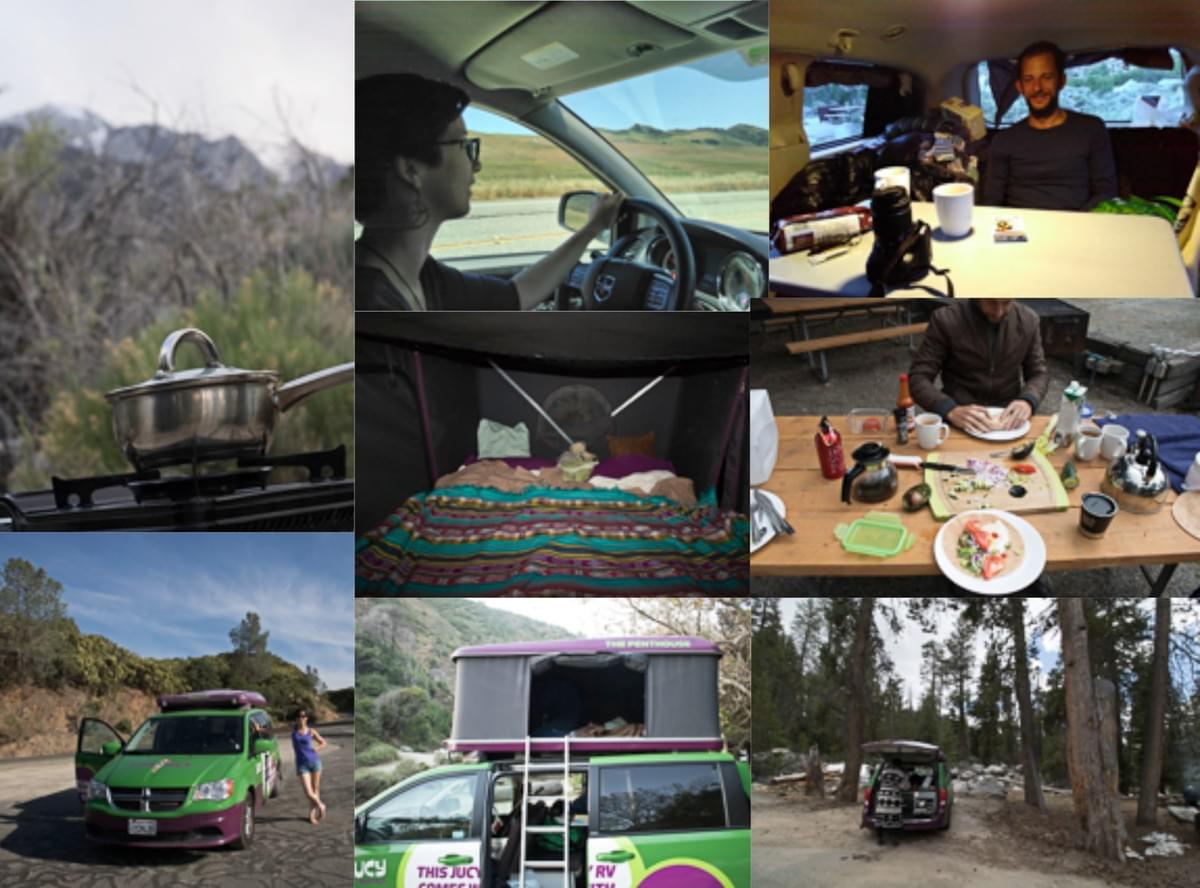 When we had decided on the vehicle and booked it I thought we could sit back and wing the rest of it. No, no and no. Speak to a local occasional camper and you'll soon realise there isn't much room for spontaneity if you want to stay on the coast or in Yosemite. The national park sites release bookings 9 months in advance and they go at midnight! With this knowledge we then sought to secure space to sleep. We even delayed our journey by a day because we couldn't find anywhere nearby for a Saturday night.
You can't just park up anywhere, certainly not in some places, in others you might get away with it but risk a wrap on the window at an ungodly hour
You CAN sleep in Walmart car parks – a good back up but not the side of California I wanted to absorb to be honest
It's not as cheap as you might think – state campsites range from $20 – $35 for basic non-electrical site. RV parks are often more up to $80 (+) especially in KOA (Kampgrounds of America) with all the bells and whistles. It seems like a lot since "ya'll gotta bring the house with you for that price too!" as Jack described it. RV parks are more likely to have wifi, state campsites do not
Friday and Saturday nights book up fast, especially in the popular areas
See our full route and places of interest at the bottom of this blog
Getting on the open road and heading north of Los Angeles felt good. I'd researched audiobooks the night before and we listened to Travels with Charley by John Steinbeck as the city faded away and the scenery became more dramatic. It details his 3 month roadtrip around the US in the 1960s the year before he died, poignant and hysterically funny in equal measure he became our companion on the road – although we did miss a few key turnings because we were so engrossed.
We saw (smelly) elephant seals, dramatic cliff faces, deep blue water and pulled over to stop for lunch at small parks overlooking the Pacific Ocean. We found our campsite in The Big Sur 5 hours later. In state-run campsites you'll meet a host who will check you in and direct you to your site, if you're after hours your name will be on a board next to a map. We cooked soup on the stove at our picnic table as the sunset. The penthouse was pretty easy to set up once we got the hang of it. A cosy nights sleep within earshot of the waves.
We headed north to Monterey Bay and Steinbeck country, visiting the author's centre in Salinas and caught a few rays on the beach. Here's where I made an error, I tried to balance working while wanting to rack up the miles on the road trip – which meant early rises and races in the car to reach wifi. My work and the road trip suffered, creating more stress than necessary. I did find some great spots for cafe working and am grateful that the Wharf Marketplace in Monterey and Rollick's in Salinas were very accommodating to us. It did make for some interesting 'office locations'.
After 4 days we turned east towards Yosemite. The terrain was flat and dry, really dry and you could see the impact of a decade of drought on the area. Mountains eventually loomed in the distance and we climbed up to the little town of Mariposa to stock up on butane gas for the stove, fresh food and cash. The 49 was a fabulous winding route up to one of the main roads through the sierras, we pulled over, sat in camp chairs and ate cold leftovers taking in the beauty and the stillness. The ability to to this just about anywhere was one of the best parts of the trip.
Because of it's popularity we were not able to stay in Yosemite National Park and in the end we only spent one day there because we heeded warnings of the 10000 ft Tioga Pass (the only road through to the Mono Valley) could be shut at any moment due to an imminent storm. Our jaws dropped at the scale of the beauty in Yosemite, seeing the Half Dome from various views and waterfalls disappear into mist as they were from such a height. Yosemite is busy and very well catered for the car. I'm sure if you picked a hiking trail it wouldn't take you long to lose the crowds.
I had sleepless nights about Tioga Pass – but as a European, in a reasonably sized car – let me put it on record now – if you've driven the ring of Kerry in Ireland or up the Dolomites in Italy – the Tioga Pass (when it's open) is a piece of cake. Due to the late spring, we were transported into a winter wonderland as we ascended the pass, 8ft of snow either side of the road, pine trees touching the sky, vast views. We stopped for a warm cup of tea and a peanut butter sandwich at the top of the pass by Yosemite Creek.
And then we were on the 395 – this was the real treat of the roadtrip. We we stopped in Bridgport, Mammoth Lakes and Lone Pine. It's a lot quieter here and while the views might not be as familiar they are no less epic. We didn't account for the drops in temperature due to elevation so it was a cold and windy few nights overlooking the Bridgport reservoirc and even some snow. We learnt about the goldrush at the ghost town of Brodie and stretched our legs on an 8 mile hike from Twin Lakes to Barney Lake. It felt thrilling to be on foot, giant pines fell away to mountain meadows and snow capped mountains, deer skipped across our path.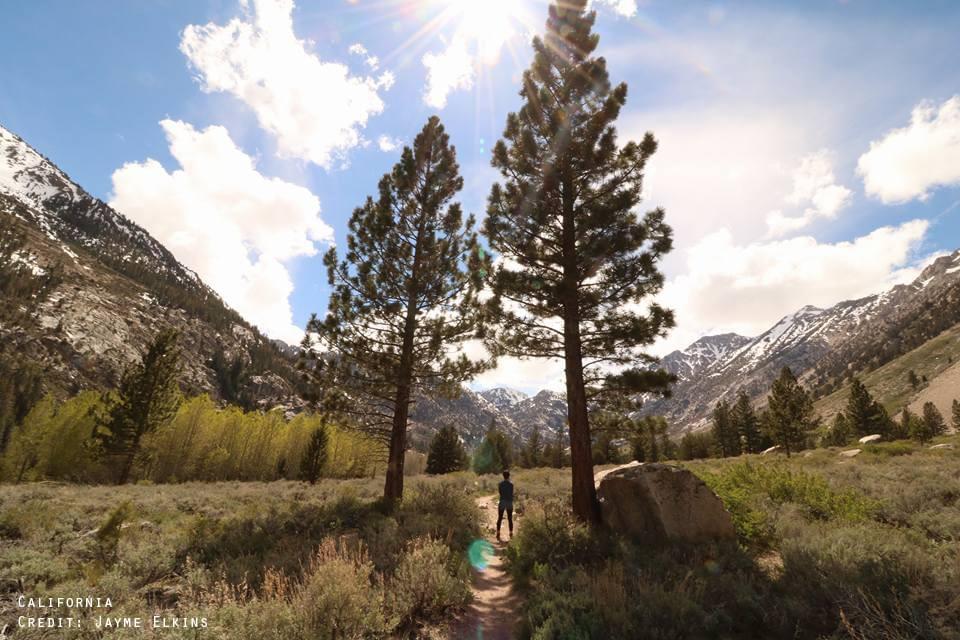 In Lone Pine near Alabama Hills, the setting for many westerns & the classic 80's film Tremors. It's also a popular stopping point for those hiking the PCT (Pacific Crest Trail) for those who have recently read or seen Wild. We visited the local saloon, played pool and slept at the foot of Mt Whitney, the tallest mountain in the continental US (14,405ft / 4421m). The campsites were almost empty and we parked at the specific site we had reserved online a few days before. No campsite hosts here.
By week two we were fully into the RV groove, each had dedicated jobs which were quietly executed when we arrived at our stop for the night. Each meal cooked on the stove tasted delicious and I eventually worked out that my usual night time cup of tea had to be cut if I wanted to avoid midnight walks to the campsite facilities. I was delighted my urge to write returned, out of nowhere. The more I wrote, the more I noticed and the more I relaxed. I did notice I had absorbed some of Steinbeck's turn of phrase!
We met some really interesting people on the roadtrip. As a child, I had grown up thinking the 'caravan people' were a mysterious bunch but now I was one of them I could see why you might have one in your driveway after all. We met a couple who live half their year in LA and the other half on a small island off the North East of the States, painting and selling crafts. They opted for a Volkswagon, a 2001 European model, to drive cross country twice a year. We met Jack whose house had burned down a few months back and had found moving into an RV was more cost effective than renting. A young couple who had sold up and were working at an RV site in Bridgport for the summer season before heading south in a large Fifth Wheel trailer. Wayne let us have a look around his giant RV with 3 slide outs, carpets, sofas with massage functionality, queen size bed and a washing machine! Many people were incredulous about the Jucy – how could people live in something so small? does it really have a sink?
Beyond the RV and the open road, Californian wildlife continued to surprise us, we saw more deer, rattlesnakes, skunks fighting at night (worse than cats), jackrabbits, hummingbirds, pelicans and birds of prey. All around you could see that it was really mother nature in charge, with the late snows the summer season had not really kicked in, residents were waiting in the wings for when the weather would turn and the short summer would signal the next phase of tourist and adventurer. Storm clouds stopped plans, closed roads and temperatures plummet. It was humbling.
As we continued south on the 395 – the scenery became more jaw dropping on our sunset drives to the next campsite. We were also dropping in altitude, so the nights were warmer and we were back in the penthouse. We reached Kernville Valley, on the other side of the sierras. Different vistas, of mountains giving way to lush valleys and the stars – so plentiful and bright. We sought out some redwoods on foot and were rewarded by seeing a brown bear lazily hop across the road right on front of us. We'd been seeing the signs for weeks, hearing rumours of the whereabouts for days but to see one in the flesh was such a treat! Apparently they really like mayonnaise, so be careful not to leave that out!
Our last night was within reach of the city of angels, but our campsite up a steep narrow drive felt lifetimes away. The sun set amongst the pines, we made friends round the campfire and enjoyed our first s'mores. It's an art form I'm told.
After 2 weeks I was ready for a bit more living space but it was a great experience to have the open road in front of you and be completely self-contained, ready for nearly any eventuality. We had our maps spread out thinking about the next roadtrip we could do, or what van life might be like in Europe.
We had clocked up just over 1000 miles on the clock and never left California.
"I was born lost and take no pleasure in being found." – John Steinbeck, Travels With Charley.
---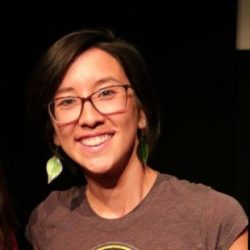 Sophia Cheng
With a decade of communications experience across the for profit and nonprofit sectors, agency and in-house, Sophia has made a habit of making 'the hard stuff' more accessible. Since 2018, she has reorientated her life around the climate crisis. She has forged her decade of communications experience into offering workshops, mentoring, blogging, and more, on the biggest issues of our time.
View all posts