Meet Your Heroes
30 November 2021
A love letter to the brilliant people I met at COP26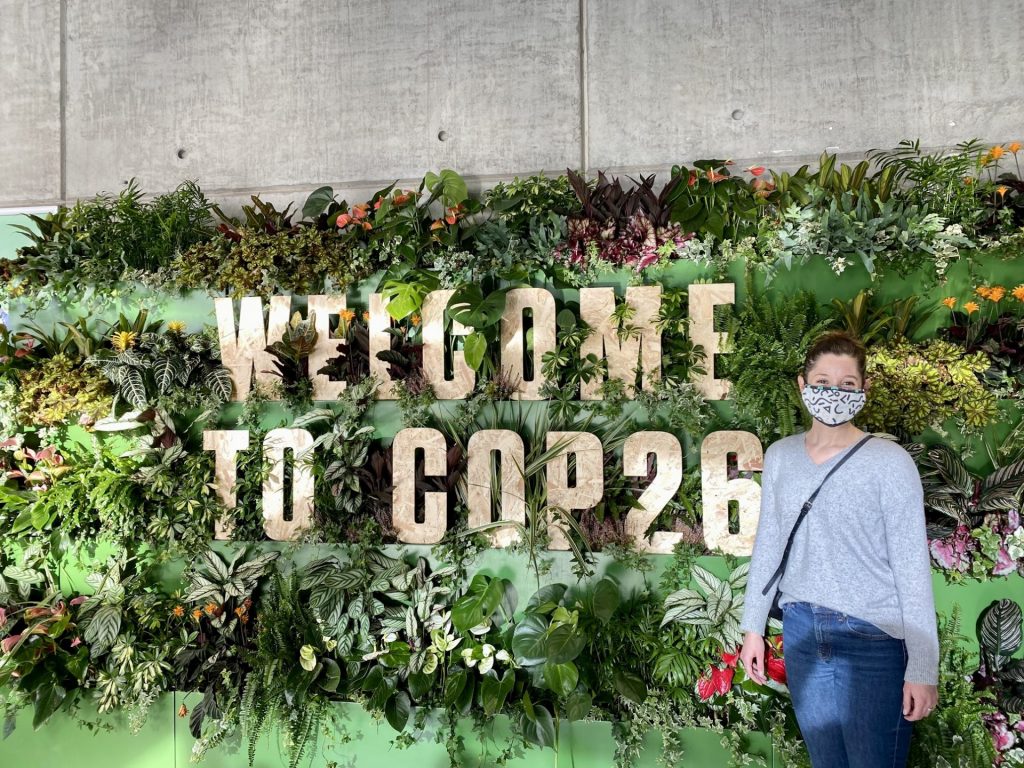 Allan Carr said "never meet your heroes". Well, I disagree with that statement and COP26 is part of the reason why. From friends, to scientists, to youth activists, writers, artists, and teachers I was in awe by the brilliance I observed in Glasgow. One of my favorite podcasts "How To Save A Planet" described COP as "a mashup between a climate themed trade show, a rolling protest, a series of TED talks or a SXSW style festival all rolled into a UN meeting." 
It was my first time ever attending a COP. The letters stand for Conference of the Parties for those unfamiliar with the lingo. The number? That's how many times the conference has convened. It typically happens every year with the exception of 2020. You won't be getting a rundown of the COP26 events here because, let's be honest, I'm a few weeks late on that one. But you can find a roundup of what happened here. And if you want to deep dive into the history of COP, you can find that here.
This was the first in-person conference I'd been to in years. My excitement fell into two categories: connection and understanding. I was so excited to meet in person folks with whom I'd formed virtual connections. I was also excited to really begin to understand how the UN mechanism worked, what the atmosphere would be like, and how a climate educator like myself could be most useful.
The first reunion was in a bar on a Sunday night. It felt oddly like a blind date. I glanced anxiously between my drink, my phone, and the door. Then, the first friend walked in. Squeals of delight, open arms, and tiptoe dancing won some side-eye from fellow patrons but they were mostly here for COP too, so they understood. The scene was repeated a few moments later when another friend arrived. I can't explain the joy of meeting someone in real life with whom I've developed a relationship solely through a zoom square. Height, and physical presence are mostly lost in the digital world. I quickly learned two things: my friends are even better in person, and they give excellent hugs. Wiping the smile from my face that night was impossible. Our conversation, as usual, went deep and intellectual quickly but this time we weren't constrained to a 1-hour time slot during the workday. It was glorious. We even put in a "Fight Club" rule – no talking about climate change for one hour at dinner. When we parted ways we knew we'd cross paths again because we had made sure our schedules overlapped so we could share a few meals together throughout the week.
Then came the events and my chance to understand what this was all about. I spent most of my time outside the official COP26 lineup. There were SO many things to do that the fear of missing out was a very real struggle. So, a timetable that featured intersectionality, mycoremediation, and carbon pricing was created. I had expected to be impressed (because I usually was) by the activists and their capacity for non-judgment, warmth, and dogged resilience. What I didn't expect was that when I veered from my plan, I'd be inspired, validated, and renewed.
The first diversion from my well-crafted plan was serendipity really. I had learned about a campaign advocating for equal gender representation in decision-making at COP that was bolstered by a podcast featuring my colleague Sophia. It had been reshaped once again into a day of panels in Glasgow called She Changes Climate Champions of Solutions. It featured a feminist perspective on topics relating to climate adaptation and mitigation. I decided to check out the morning session and was riveted. Not only was I physically close to the panelists, but they were brilliant. The women shared statics while connecting to their feelings, spoke about legacy and responsibility in the same breath they spoke about business and finance. They were acting with the urgency warranted in a crisis and frankly, they are the leaders I'd choose. I met Bénédicte Herbout who I'd only known through a messaging platform. She volunteers with the Climate Fresk organization and was also attending. Benedicte had cycled from Munich to Glasgow, delivering climate education workshops at every opportunity along the way – hero material for sure.
After lunch, another friend came to join me and watch the panels for the rest of the day. Suddenly the co-host of the Mothers of Invention podcast sat down. My friend and I elbowed each other wide-eyed. We cautiously approached to say hello and fangirl a bit. She was so kind! She even gave us some rad stickers. The afternoon wrapped up with a transition to the arts. We moved upstairs and were gifted – thanks to Brian Eno – with song, inspiring fashion, and a reminder that play is important for creativity. Along the walls of this space were plaques featuring a photo, a quote, and a QR code. They represented each podcast the group had produced. By this time Sophia had joined my friend Naira and me and we squealed with delight when we found Sophia's plaque.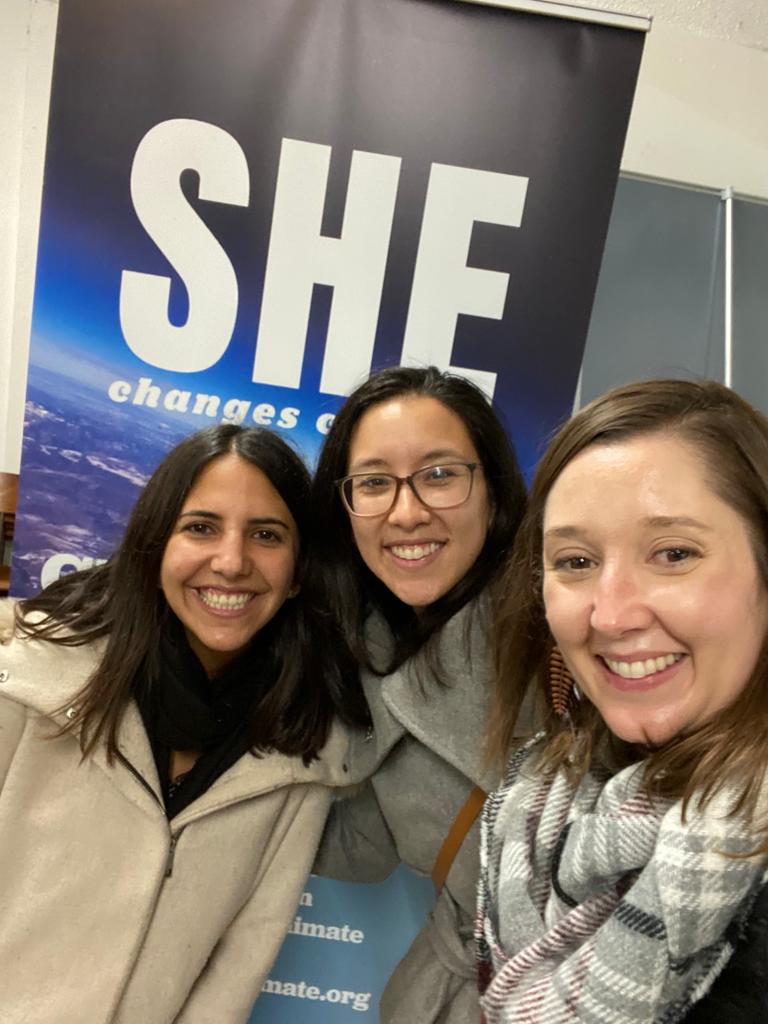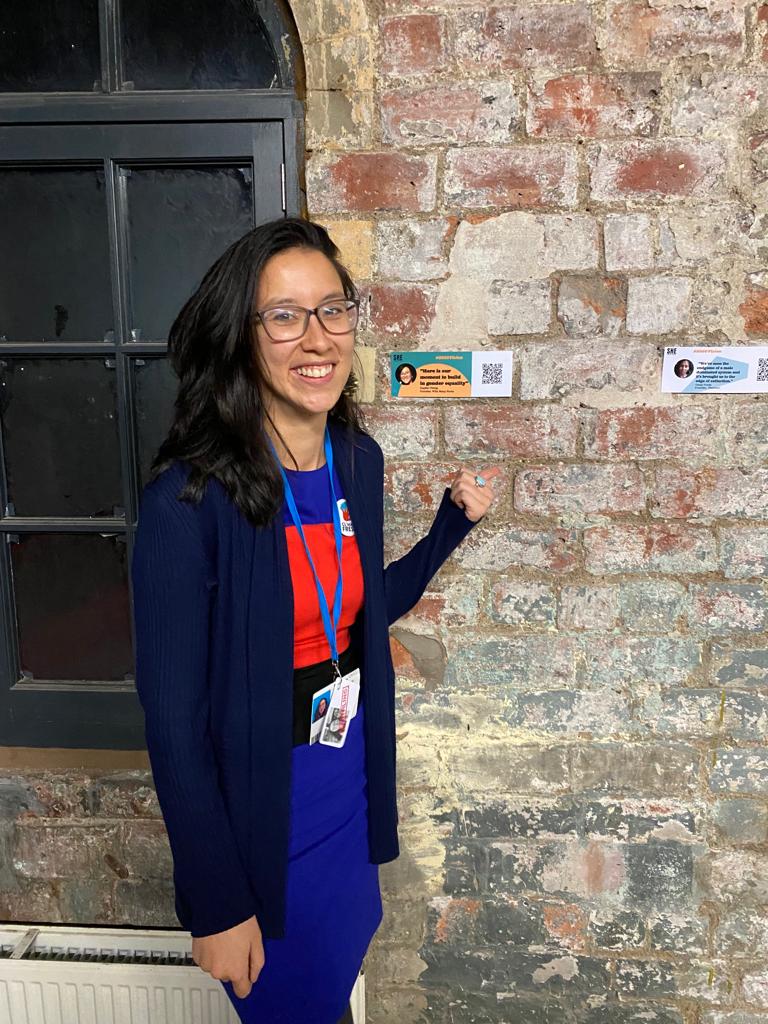 Bright and early the next morning, I was on a bus to the opposite end of Glasgow. I followed Google maps into a dodgy group of industrial buildings. I knew I must be in the right place when I saw the fencing and security guards. Soon I entered the New York Times Climate Hub, nondescript from the outside and cool as hell on the inside. I was early since I had expected a long line at the security checks to slow the process but I was one of the only people coming in. I had taken a dangerous gamble that there would be coffee. Probably an old trope but an image of a newsroom with coffee cups littering desks entered my mind. Sure enough, I found it, and in the Ellen MacArthur circular cafe no less. The barista clad in a crisp denim apron produced a delicious chocolatey espresso topped with steamed oat milk: thank god for hipsters. Soon my first event started – a panel on the importance of employee climate education – or the Venn diagram of my work and interest that is actually a circle. I made myself comfortable in the second row, eager but not too much. And then Katherine Hayhoe walked in. I had no idea she was on this panel but when I say she's a climate superstar – yall. She's a big deal. A climate communications master with an approach that is both accessible and kind. How in the world she manages it, I have no idea. During the panel, I learned that 76% of employees are ready to take climate action at work. If company leadership isn't on board, a bottom-up or middle-out approach can still work. Sometimes this approach works even better than top-down. Getting employee buy-in through an understanding of the science helps teams have more productive strategy sessions. On a practical level, smart companies should view employees as a bellwether for the general population's concerns about climate change and position themselves accordingly. This is the biggest issue of our time that is not taught in school. Climate is embedded in every job role – every job is a climate job. Once employees have the knowledge, the ideas for change begin to flow, then empowerment from leadership will lead to solutions for the business.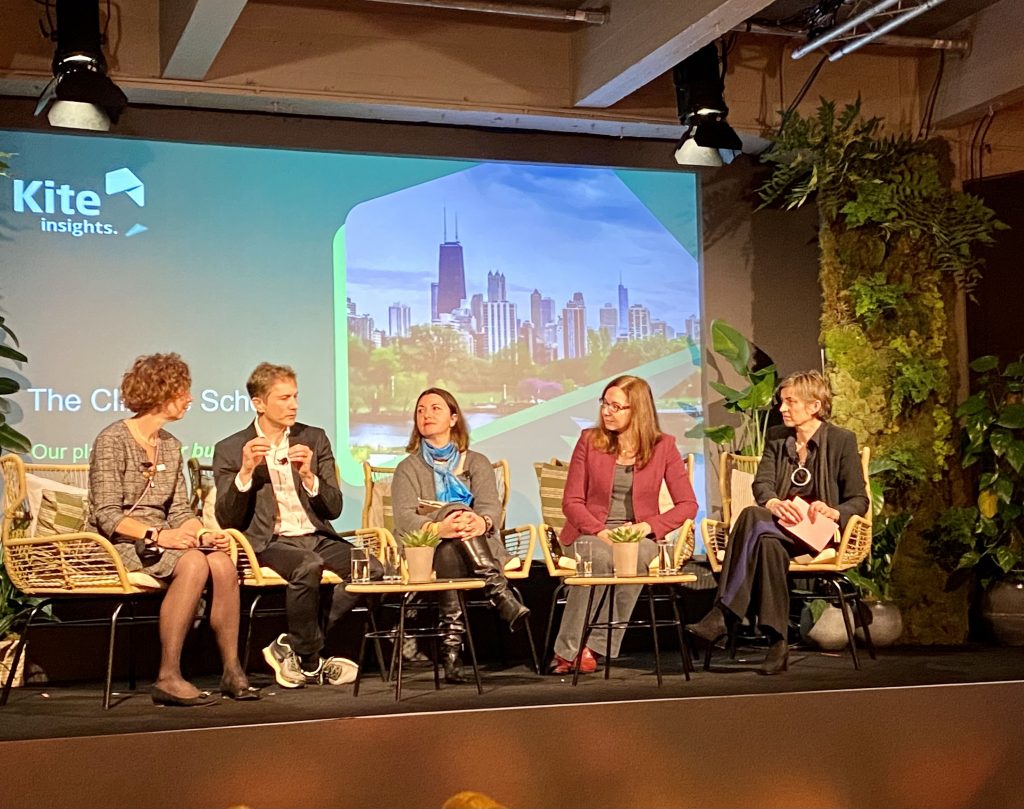 Once that panel wrapped up I went out to explore the rest of the complex. I had seen on the agenda an upcoming event exploring circular design so I decided to find it. It was in The Think Tank which is a very political-sounding name, so I expected a boring run-of-the-mill formal meeting space. What I got instead was awe. Taking inspiration from the book The Overstory (a must-read) the hall was transformed into a forest. Scots pine and beech trees nestled with ferns and grasses that would be planted in Glasgow once their job here was done. Soft light pierced the gentle steam needed to keep the plants moist. Smells of mulch and pine freshened the stale concrete cave. Birdsong and insect buzzing was piped in through rock-shaped speakers. It was at once magnificent and bewildering. This was the first time I'd smelled forest in a week. Maybe the point of the space is that it invites us to grapple with climate policy in the shadow of nature's beauty.
I found a seat, the lights dimmed, and surround sound complemented the introductory video on the main screen. The panel arrived hosted by Vanessa Friedman, NYT fashion critic. Then the OG of circularity – William McDonough himself walked in. I couldn't believe it. I read his book Cradle to Cradle this past spring and mused about how late to the game I was. It was first released in 2002 but is still as relevant as ever. Here he was in the flesh! A bowtie adorned his collar and a smirk rarely left his face, which made me immediately like him. He wields one-liners like swords. The first one out of the gate: do science and tell the truth. His consumer philosophy? Timeless mindfulness. Buy stuff that will last and do so with intention. He advocated extending producer responsibility. Joining him on the panel was Claire Bergkamp of Textile Exchange. She advocates for a policy that incentivizes the use of low-impact materials and said that the textile industry is actually asking for regulations. In light of microplastics, she believes the focus should be on textiles that are both safe and durable for consumers while fitting washing machines with filters for existing textiles. McDonough said microplastics and nanoplastics (which can cross the blood-brain barrier in fish) should be designed out. Claire challenged the notion of consumption by suggesting that the industry could just as easily market secondhand goods. Finally, Halide Alagoz from Ralph Lauren shared about the open-source zero waste dye process they've developed. Adding that they're piloting selling secondhand Ralph Lauren goods in their stores but cross-border policy and cost to transport the items has been a barrier. The real kicker was when an audience member asked Hilade about degrowth. She said that yes, they have looked into it and believe with their timeless approach to fashion that the financials could stay stable even though there are fewer new items being sold. The word "degrowth" is not one I'd expect to hear from a multinational company but maybe they're realizing that growth is the wrong metric for success.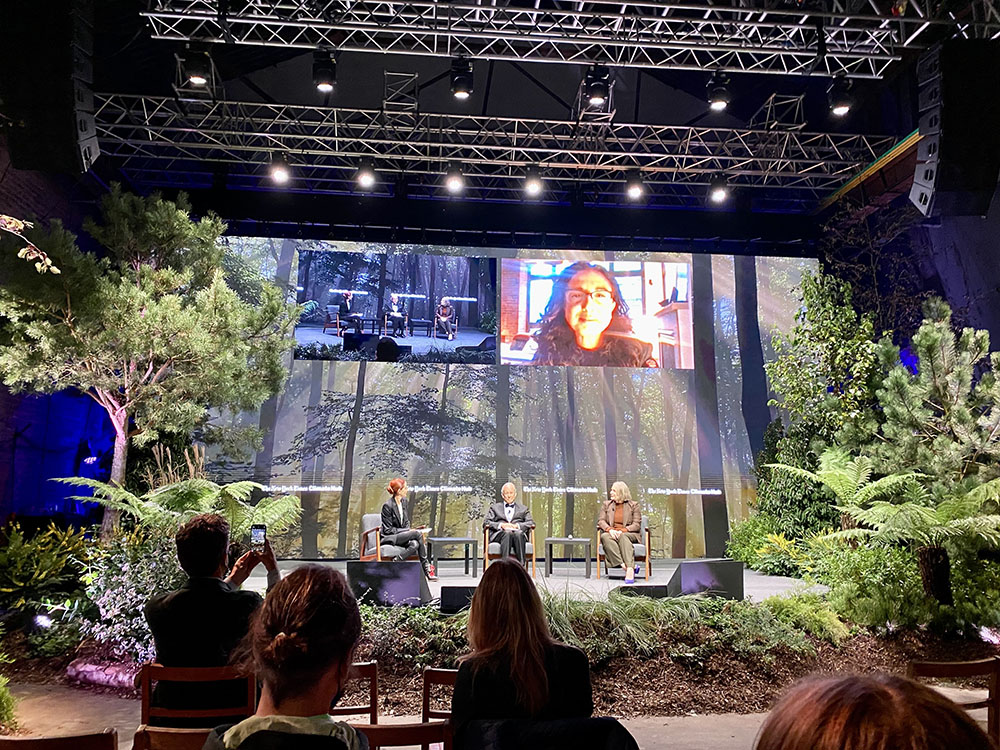 I took a break for lunch and chose one of the two all veggie options on the menu. Long tables were arranged for attendees to sit along – I'm sure the expectation was that we'd mingle and connect. However, I immediately felt panic rise and thought of my middle school cafeteria. Thankfully, I found an open space and tucked in. A woman sat down across from me with a plate of the other food option and we made easy conversation comparing the two dishes.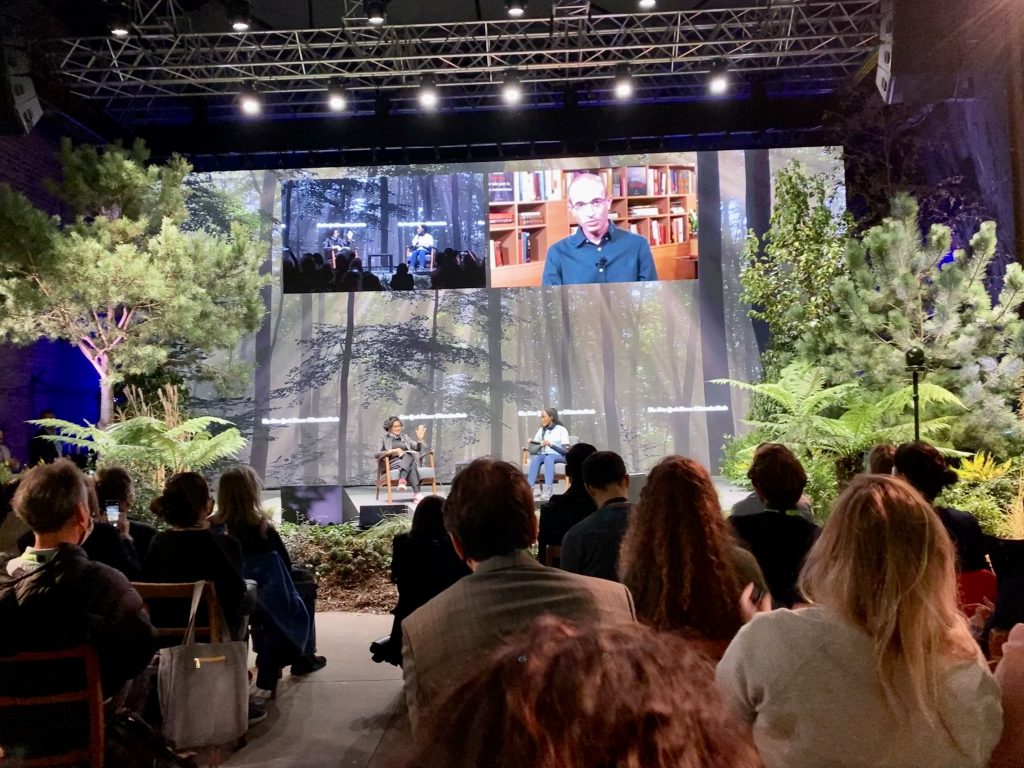 Next on the agenda was a panel featuring Vanessa Nakate and Yuval Noah Harari. Having finally finished Harari's book 21 Lessons for the 21st Century this year, and knowing how influential Nakate is, I was excited for this one. Back in the tree-lined room, moderator Somani Sengupta welcomed Nakate onstage and Harari via video stream.
Their focus was looking at the climate crisis in a wider historical context. There were so many revelations for me out of this conversation. Harari linked the sacrifice of younger generations by older ones to the Biblical story of Abraham preparing to sacrifice Isaac. Vanessa pointed out that we are already at 1.2 degrees above preindustrial levels and have extreme weather; 1.5 will be less safe and 2.6 degrees will be a death sentence for many including people from her country, Uganda. Harari pointed out that it would cost just 2% of annual GDP to prevent catastrophic climate change ($1.7 trillion). To put this in perspective, 10% of GDP is lost due to tax evasion, and 2% of GDP is equal to the amount of money we throw away in the form of food waste every year. Sengupta then asked who should pay, and this is where Vanessa Nakate's most brilliant connection was made. First, she explored how you would even begin to value connection. Connection to home, to place. Tangible losses can be quantified but what about intangible losses? She said every year $500 billion is given to fossil fuel companies in subsidies but the $100 billion being requested in the loss and damages to countries who are adapting to climate change right now is unavailable. What gives? When asked about hope for the future, Harari rallied the collective spirit, reminding us that humanity is capable of great things. Powerfully, Nakate reminded us we may be facing the same storm but we are in different boats. With that, she was whisked off stage and my jaw was left lying on the floor.
Thursday I was up bright and early and decided to check out a local coffee shop for breakfast. Huddled in my coat outside I began scarfing down a bun stuffed with a fried egg, brown sauce, and potato pancake – Scottish comfort food is dreamy. A woman joined me with her cup of coffee and we began to chat. She was a local in the area and an educator. Once she found out why I was in Glasgow, she shared with me the community efforts to make sustainable changes. She lives in a up and coming neighborhood and aesthetics are a big deal, so getting a bike storage pod installed had caused a bit of a kerfuffle but had ultimately worked out. She lamented the difficulties of recycling, and shared about how the children she works with really get it. It was a lovely wholesome conversation and it fueled me on.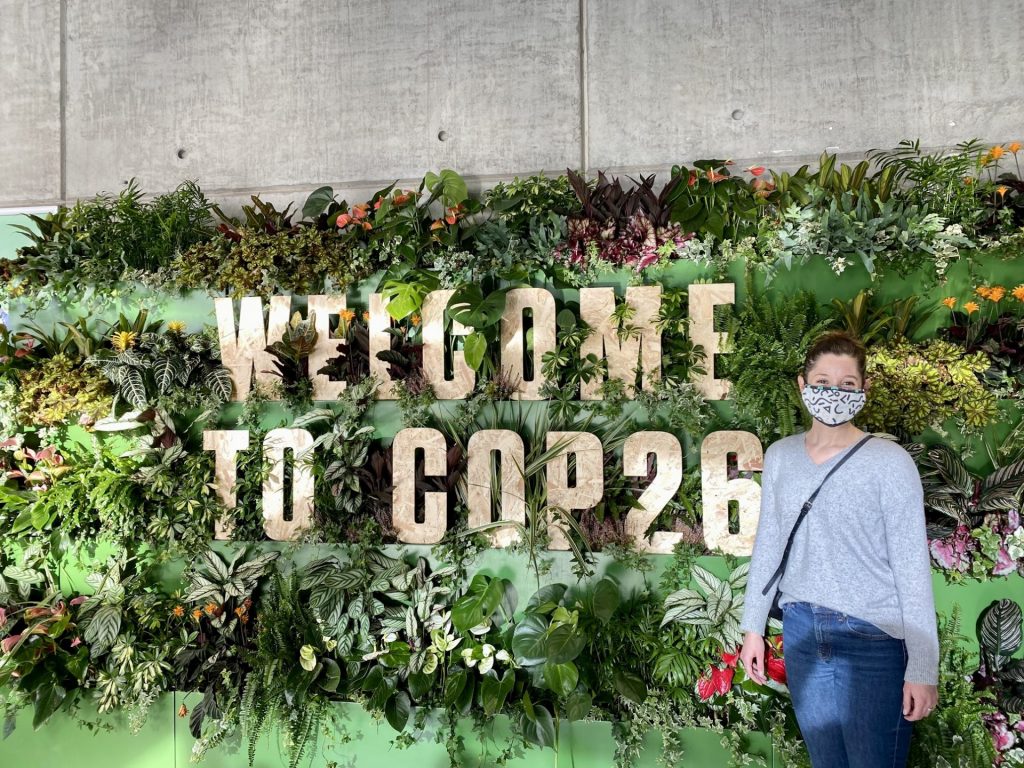 I took a bus to the Glasgow Science Centre to check out the Green Zone. I arrived and began walking toward the modern arched glass and steel clad building. There were security fences surrounding the Science Centre and the building next door – which housed the Blue Zone. The place where the UN Delegates spend most of their time. Guards stood at every entrance and intersection in highlighter yellow jackets. The signs weren't easy to follow but I found my way to the entrance. An intentionally blocked car park created a zig zag maze meant to house hordes of people but it stood empty. I followed the person in front of me who walked across muddy grass to cut through the unnecessary crowd control. At the door of a large white tent, I showed my vaccine status and was allowed in. Masks were required from this point on. I joined another queue and went through an airport style security check. Once I'd made it through, I followed the trickle of people along a walkway past the outdoor displays of vehicles. Finally, I walked through the doors. A large floating globe welcomed me into the space. Taking a right into the main hall I was greeted by a Formula E (electric F1) car banked on a display. To its immediate left was a beautiful vertical garden photo op. From there the hall was filled with the type of booths you might expect at any convention. The thing that was missing though was swag. There were pamphlets and flyers, QR codes and websites but no koozies or keychains. To be honest, this was a relief. As I wandered around something occurred to me: it was the experiences that people were lining up for. On the 3rd floor, participants were invited to don a VR headset and experience life in Bohol, Philippines a village that floods entirely every spring. There was always someone wearing the headset.
I joined my colleagues at The Climate Fresk booth, another interactive exhibit, and met a few more people I'd only known online. A friend and I took a break for lunch and I was very curious to see what the canteen offerings would be. Campaigns for an entirely meat free COP had failed and I was curious to see what was available and what people would choose. There was a sandwich refrigerator with the usual suspects, including roast beef. There were soups and hot sandwiches as well as a nice selection of vegan cakes. The hot seller? Vegan haggis, cheese, and sriracha served warm on a baguette. Of course, I had to try it. And for balance, I had a good ol' full sugar Coke. One of these things was a sure bet. My friend and I found a table and dug in. I was hungry, a week of walking, talking and not a whole lot of rest was catching up with me. I dug in to the sandwich and it was really good!
Next, I went off to explore the corporate sponsor booths. They were large (about 3-5 times bigger than the other booths) and they were expensive looking but they didn't offer anything. There were no experiences or invitations, not really even conversation. They usually only had one person attending them whereas the other booths typically had a few people mingling around. It felt like a missed opportunity from the marketing department but I'm sure it would also be a practice in accountability. The visitors here know their stuff. Overall the Green zone was underwhelming. I'd anticipated this and it's part of the reason I saved it for later in the week.
That evening was the wrap up party with the Climate Fresk group. It was inspiring to see all the hard work that had been realized by a group made up mostly of volunteers. A highlight was when the events lead asked us to turn to our neighbor and tell them one thing we appreciate about them. Maybe it was the lack of sleep or the complex emotions culminating but I ended up wiping happy tears in a bar on a Thursday night. The seriousness all shifted when the karaoke started. 🤣 In true UK fashion, the night ended at a kebab shop bantering with the staff.
The final day I volunteered to join the Climate Fresk team in the green zone to facilitate a shortened quiz version of our workshop. I like this work. I knew I was 'preaching to the choir' but it felt validating to engage with the public after such an isolating past two years. My participants were knowledgeable and they shared so many useful things with me. A pair of women close to my age were working in Loch Lomond National Park and shared how the water shortage Scotland faced this past summer had effected tourism. I met a farmer who added so many biodiversity impacts to the fresk she could've built a new one. I met a guy who studies permafrost who'd brought his girlfriend and another couple along to learn more about why his work matters. It was wonderful to be around people like that.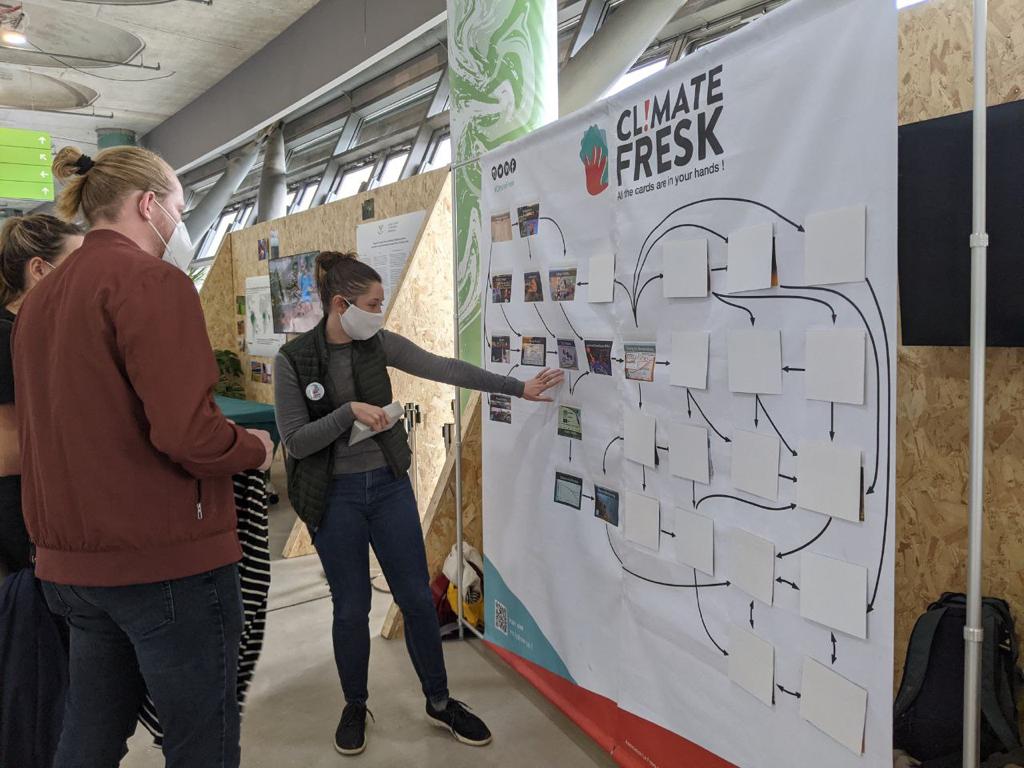 By the time I traveled home, I felt more connected to the larger climate movement, and had a better understanding of how the UN mechanism of COP works. What happened unexpectedly was the inspiration I felt being among so many brilliant and passionate people. No, the commitments aren't enough, and yes there's a real gap between what is and what could be, but there are a lot of incredible people showing up and trying to build a world that is safe from climate disaster.
---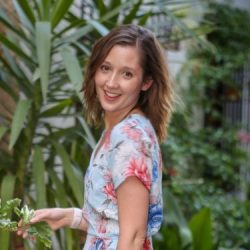 Allison Whitaker
USA
Allison is a workshop facilitator and marketer who has historically consumed more fiction than she writes. She's attempting to change that (and the world) by using her powers for good. An American by birth and traveler by heart.
View all posts