You've participated in a Climate Fresk (formerly Climate Collage) workshop, now you want to scale.
Length
Half-day workshop + 2 hours troubleshooting
Interaction
Online of offline- Covid-19 depending
Size
Up to 12
Suggested tool
Climate Fresk Facilitator Training
Want to roll out climate literacy at scale? Train your people to deliver the Climate Fresk.
Learn how to create safe spaces to deliver quality climate education.
We offer high quality training of the Climate Fresk with deep knowledge of the content and comprehensive tips on how to hold a safe space during the workshop.
Designing with your needs in mind
We can tailor the Climate Fresk training to your needs and we can deliver at scale.
We can offer more hands on coaching, one to one observation and feedback to ensure your new facilitators are confident to deliver the Climate Fresk to the rest of your organisation.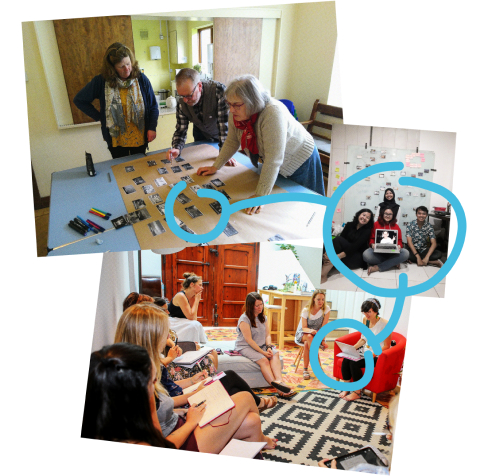 Pricing
Reduced / Grassroots
We seek to train up facilitators from diverse backgrounds, subsidised or for free as part of our impact work
Join Overstory Facilitator Community (coming soon)
< £1000
Standard / SMEs
½ day workshop for up to 15 colleagues
2 follow-up practice sessions with group
£2500
Generous / Corporate
½ day workshop for up to 15 colleagues
2 follow-up practice sessions with group
Small group feedback
Observation (optional)
Fund 1 free training for grassroots communities
≥ £3500
Note
With Many Roots is part of the Giving What You Can Pledge; on top of the 10% donation on this course, 10% of annual profit is donated to charity as well. With Many Roots is a living wage employer and all team members have access to physical and mental health wellbeing support and an annual training budget to further their learning.
Next steps
Book in a call with us to discuss your needs and aims for yourself or your team.
Together we will identify if we're a good fit and map out the right program for your organisation.
Curious Individual?
If you're looking for engaging workshops just for you, we host 'pay what it's worth' community workshops each month.