Peterson, dropped into a Cli-Fi session a few years ago and has been a regular ever since. His hopeful and creative presence adds to the collective group dreaming session. Imagining positive futures thread us together and he's been generous to feature some of other cli-fi stories on his podcast Citizens' Climate Radio. It was more than high time to get to know him better.
Peterson is a theatrical performance activist living in the USA with his husband. Peterson uses comedy and storytelling to promote rights for LGBTQ+ people and to help people respond enthusiastically to taking action on climate change.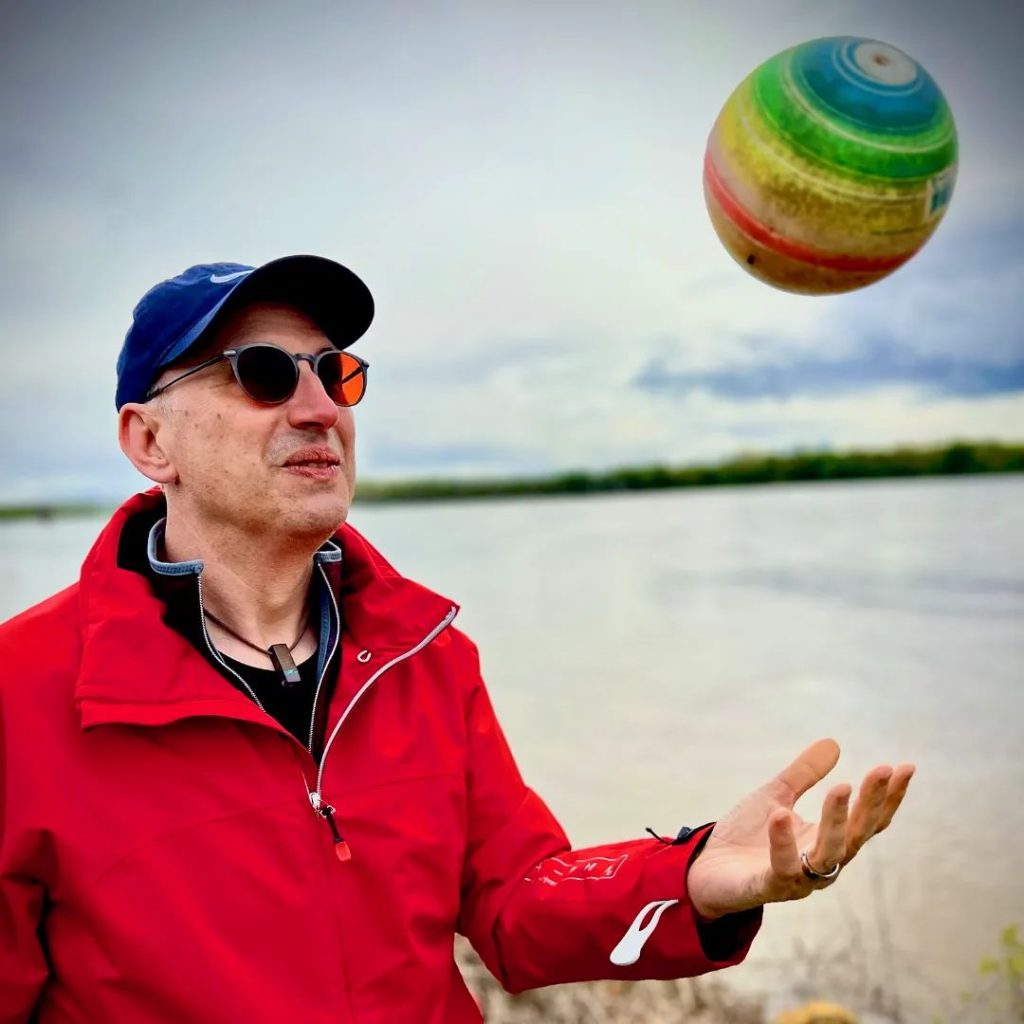 What concerns you about the world today?
Peterson is concerned about our general lack of empathy and imagination, and also what he feels is a lack of curiosity about others. We discussed what Peterson calls "creative communication": he explained that we need to find ways to do more of it… to increase our "ability to imagine".
What positive contributions are you making?
Peterson was an activist in other arenas, long before he was impacted by climate issues. At various times and in various places in the UK, the States and South Africa he was involved with raising awareness about conversion therapy, and about wider trans and gender issues. He used his skills as a biblical scholar to explore alternative transgender perspectives and developed his podcasting and performing skills in these arenas. It was here that he learned about the power of storytelling, and in using humour. When his husband raised Peterson's own levels of awareness about the climate crisis, he was able to transfer those skills to working in the climate arena.
Peterson has written twelve one-person comedies including, Doin' Time in the Homo No Mo Halfway House, Transfigurations–Transgressing Gender in the Bible, A Queer Response to Climate Change–What Would Walt Whitman Do? and Does This Apocalypse Make Me Look Fat–A Comedy about Broken Bodies, Large and Small. He is also the host of three different podcasts: Citizens' Climate Radio– A Climate Change Podcast, Bubble&Squeak, his own personal audio playground, and Quakers Today, the companion podcast to Friends Journal magazine. He has also contributed to With Many Root's Cli-Fi Imaginarium.
Have you had to make any sacrifices?
Peterson was quiet for a moment before responding to this question: one which has challenged many of our Inspiring Activists. He commented that we can perceive a sacrifice as a thing that as individuals we must do without, whereas the climate crisis is much more about big systemic changes, rather than you or I not flying, or eating less meat, etc. But those individual 'sacrifices' are important too, if nothing else than for modelling sustainable living for friends and neighbours. The biggest sacrifice happened over 10 years ago when he was about to retire from public activism and return to a quieter life as a school teacher. The need to engage fulltime in climate change work pulled him deeper into activism and advocacy. Oh, and twice a year he goes to Washington, DC where he feels compelled dress up in businessman drag with a suit and tie so he can speak to members of congress about climate change legislation.
How do you stay motivated?
"Collaboration…" was Peterson's immediate answer to this: "Collaboration is energising." He talked about a mentor who'd explained to him that even two people collaborating on a project brings into being a third dimension: a third brain. He added that his curiosity about how to communicate effectively about climate change motivates him by engaging his whole person: "heart, mind and gut".
What gives you hope?
Another pause for thought here, then Peterson said he doesn't hold with a "binary of hope and despair". He added "it's not about winning or losing, it's just that this [whatever this may be] is the thing to do…" He said that although he's never been responsible caring for a newborn, he imagines that if you are, and that child needs attention, whatever amount of hope you have, you get on with seeing to that child. Get on with what has to be done.
What if…we make the changes needed, what will your world in 2030 look like?
Peterson summed up the world as quieter, fresher, and greener. There'll be less noise and air pollution and it will feel very different for people with respiratory problems. There'll be more wild plant life, and more people embracing growing more food plants.
A book that has helped you grow
A non-fiction and a fiction choice for Peterson: The Great Derangement: Climate Change and the Unthinkable, Amitav Ghosh and Mr. Eternity, Aaron Thier.
Note: these are affiliate links
A song that keeps you going
A song by Swedish Singer, Doris, that fits with Peterson's philosophy of in extreme weather, you need extreme love.
A quote that lifts you up
"Leap and the net will appear."

What Color is your Parachute?
Peterson suggests as positive advice for taking that leap of faith required for climate work is Peterson's choice here. He remembered it being from a book called What Color is your Parachute? [An amazing book originally self-published in the 1970's by Richard Nelson Bolles, now updated annually, which I remember using in its first incarnation when career counselling. Originally intended for job-hunters, now majorly revised with multiple applications, including climate work]
Your message to the world: imagine we gave you a microphone and every person on the planet can hear you, what would you say?
Peterson was thoughtful and quiet once again before he made a small speech. I felt his words to be very kind. And humanitarian. This is the essence of those words:
We live in an extraordinary time… it's easy to feel overwhelmed and afraid… but you have a part to play which is uniquely your own… ask yourself, why am I on the planet today? What is my role on this new planet? These are big times which need big hearts. There is a role for you.
---
More from inspiring activists?
---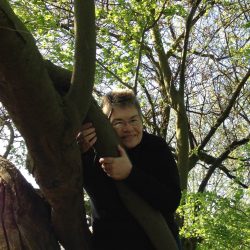 Daphne Pleace
Yorkshire, UK
Daphne is our well-being director and in-house writer. She has over 50 years' experience of 'people' work in a range of contexts. She has been, or still is, an English and drama teacher, a counsellor in educational and relational settings, a psychotherapist, and a facilitator and mentor in both personal and professional developmental contexts. She chooses now to devote her time and skills to individuals and organisations working with the climate crisis.
View all posts